For various reasons, I'm feeling neither clever nor articulate these days. I mean, um, all my clever-articulate-ness is being routed into my writing projects. Yes. That's it. (Nods sagely. Hides writing projects.)
And so, in lieu of a proper blog post, I offer you buttons that you are welcome to use on your website if you like. Amazon makes their "buy" buttons widely available, but I wanted a matched set, and my web developer husband was kind enough to make some. They're at the bottom of this post, due to technical issues. (That means I can't make it look right any other way and I don't want to bug my husband again.)
New Book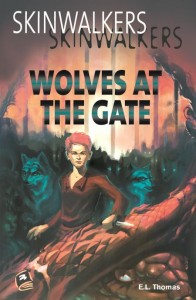 My latest book, Wolves at the Gate, has just come out from HIP Books. I haven't even seen a copy yet. They're in the mail, apparently. I'll be updating my Books page as soon as I get a look at the back cover text.
Wolves at the Gate is part of another fantasy series written with Cheryl Rainfield and Deb Ouellet, but this time, the books share the same world but deal with different characters. That means you can read them in any order or combination that you like.
My character, Ren, is a thief who learns over the course of the book that he is a Skinwalker — someone who can choose between two shapes. Ren needs to decide whether learning to use his new skills is worth the risks that come with joining a community. Human or fox, loner or pack member. And he has to decide soon, because the Skinwalkers are planning an attack on the king.
This is a novel for reluctant readers, which means it's a fast, action-packed read. It's targeted at readers in about grade five and up, but written at the grade three reading level. Charlie Hnatiuk did the illustrations. I had fun creating Ren's world, and I hope you'll enjoy reading about his adventures.
At Last: The Buttons
Here they are! Matching buttons for Amazon, Chapters and others.
Please note the addition of Blue Heron Books, my lovely local bookseller. Shelley is so supportive, she deserves her own button. There's also a "Find Local Bookseller" button for those of you who don't live in Durham Region, Ontario.