By Erin Thomas | February 3, 2014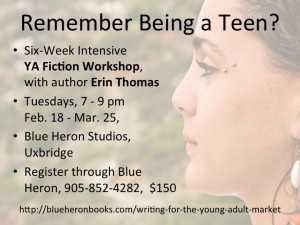 As mentioned in a previous post, I've been invited to teach a course in writing YA Fiction through Blue Heron Books in Uxbridge. And last month, at the January CANSCAIP meeting, I  heard a panel of absolutely fabulous writing instructors — Anne Laurel Carter, Sharon Jennings, Cathy Rondina and my own teacher, Peter Carver — discuss their experiences and ideas around teaching writing.
So of course I'm thinking now about what it is I love about writing classes, both as a student and as a teacher, as I put together this new course.
Eleven or so years ago, I was working as a technical writer and taking night courses at George Brown College towards my Technical Writing and Editing certificates. Each certificate had required courses, plus some electives. For my electives, I always chose creative writing courses. All kinds of creative writing — short stories, magazine writing, workshops on writing clearly, and even one in writing romance. That was where I met Hilary, the woman who changed my life. "You should take the writing for children course," she said. "The guy who teaches it is Yoda."
I'd never thought about writing for children before, but who doesn't want to take a course from Yoda?
So I signed up for Peter Carver's entry-level class, run out of Mabel's Fables, a children's bookstore in Toronto. That was my introduction to children's books in Canada today… in a colourful, book-crammed wonderland, at the hands of a rather tall, lanky Yoda, whose passion for children's literature is second to none. He taught us all to write better, yes, but he also shared his love of all things book-related. He introduced us to some of the best books being published at that time, and showed us how inspiring and wide-reaching children's literature can be.
I never looked back. On to the second-level, workshop-style course I went, and after ten years, I still sign up whenever money and time allow. (Ted Staunton teaches it now, and he's brilliant. He sits there, so laid back that you'd almost think he wasn't paying attention, except that when he finally speaks his words zip down to the core of the work and the discussion and hold up something remarkable, every single time.)
What was it about that class? Peter, of course. Probably also the setting. And the group, the people there. The level two class was something new to me at the time, in that it wasn't a class you just took once and moved on. There were people in that class who had been coming back for ten or fifteen years, by that point. The class was always the same, and always different, because it was a workshop made up of the people in the room and whatever they were working on at the time. You never knew what you'd learn, or which stories you'd hear.
And I did like hearing everyone's stories. Sharing work aloud, I think, can be an important part of the learning process, for both the reader and the listeners.
So be warned — if you're thinking of signing up for my YA class, there will be a workshopping component! I hope that each of you has a YA project you're working on, or wanting to work on. If not, I'll get you started!
We'll also read and hear bits of some really wonderful, recent YA novels and talk about what makes them work — or not work. We'll be looking into some psychology tools and talking about what it means to be a teen, and how we can use that to deepen our characters and even our approaches to story structure. We'll be remembering our own teen selves, and mining that rich ground for stories.
And, of course, there will be charts. And handouts. Because my brain likes charts and handouts.
We'll look at different genres (fantasy, historical, mystery) and how they are being represented in YA books. We'll look at the market, too, and the business side of things, and I'll see if I can convince some of the agents, editors and YA writers I know to join us (maybe via Skype, given the sort of winter we're having) or at least share their thoughts, but as with most of my classes, the focus will be on your writing. After all, that's the fun part.
I can't be 'Yoda' like Peter, and I'm not laid back like Ted. My teaching style tends to be a little bit more jackrabbity, and I have a bit of an obsession with bristol board. But one thing I can offer, one thing I do have in common with these two and with the other wonderful teachers I heard from at CANSCAIP in January, is a deep-seated love of children's books. Also a genuine excitement about sharing anything I've picked up along the way that can help another writer develop. I have a sponge for a brain when it comes to this stuff, and I like to wring it out during class time. (There's a lovely, appetizing image for you.) I look forward to hearing your stories, and to helping you make them stronger.
Perhaps best of all, there will be cookies. Tea as well, if Shelley will allow it in her absolute treasure of a bookstore. That's the lasting legacy of my time at Mabel's Fables — Peter taught me that cookies are a very important component of any writing class.
So if you're thinking of signing up, drop me a line and let me know if you like oatmeal or chocolate chip with your brain-spongings.
BLUE HERON COURSE DESCRIPTION: 
Tuesdays:
Writing YA Fiction, with Erin Thomas
Remember being a teen? First times. Intense feelings. Everything changing, all at once, as your world seems to grow bigger and smaller at the same time.
Join children's author Erin Thomas for a six-week look at novel writing through a YA- specific lens. Previous writing experience or a course in writing for children is recommended but not required.
Tuesday, February 18th to March 25th, 7pm to 9pm $150
Sign-up page: http://blueheronbooks.com/writing-for-the-young-adult-market, or call the store at 905-852-4282
Topics: Writing | 2 Comments »
By Erin Thomas | January 30, 2014
Recently, armed with a discount coupon, I went shopping for jeans. I like to rotate them. When my "good" jeans start to look worn and grungy, when I've walked on the hem for too long and it's frayed, they get demoted to "everyday" jeans.
Mostly, my jeans look more or less the same. I've ranged back and forth between the same two sizes for enough years now that I don't stress about it too much. Sometimes for Christmas I'll be given a pair that fits whatever the style is that year, tapered or flared or whatever. I have one pair with butterflies embroidered on them… they got a hole in them when they were still pretty new, and my mother happens to be a brilliant seamstress with an embroidery machine. Perfect fix. I like those ones a lot. But mostly, my jeans are just jeans.
I saw a sweater I liked, plain and comfy looking, and tried that on, too, along with my usual jeans in my usual either-or sizes. The saleswoman came by to check on me, just as I was thinking the sweater would be even comfier if it were bigger. (For those of you who don't live nearby, we in southern Ontario are enjoying a pretty wicked winter… large warm layering things are our friends right now.) I stepped out and asked if she could please grab me the larger size.
This particular saleswoman was younger than me, quite pretty, and as it turns out, quite adamant about fashion. "No," she said. "You don't need it." She surveyed the jeans I was trying on, too. They seemed to meet with disapproval. "I'll be right back," she promised.
I waited. She came back with different jeans. I suspect they may be stylish. I tried them on, with the sweater I was still wearing. "How are they?" she asked.
Strange.
She pulled me out and stood me in front of the three-way mirror, then wrapped a scarf around my neck. "There. Now what do you see?"
Oh, my dear. Have you any idea what a loaded question that is?
I saw me. In different jeans.
I saw a woman who's turning forty this year. Not old, but not quite young, either. Old enough to know that changing clothes doesn't change who you are. Comfortable enough with myself, good and bad, not to want to try.
Those of you who are older than me might be rolling your eyes, thinking that I don't really get it, not yet. That's okay. I accept that. But as much as anyone can at this point in the journey, I get it.
I saw a woman who's going through some stuff. Who's had a bit of a challenging year, but who's been through worse and come through just fine. One who loves her husband and daughter and family in a way that has nothing to do with surfaces, and is loved back the same way. One who's lucky enough to have really great friends.
Mirrors are complicated things — or maybe it's that self-image is complicated. Just as when I look at my daughter, I sometimes see her at all the ages she's been, I can't look at present-me without seeing past-me as well. A skinny girl, pretty, with dark hair and big eyes. Although at the time I had no idea of being either pretty or thin, except that my friends all had bras before I did.
But that girl… she didn't know much. I wouldn't go back to being her. Not for anything.
A few years ago, I had the slightly surreal experience of catching a glimpse of myself in a photograph taken from behind. In the split second before I realized who she was, photo-woman looked okay. The instant I knew I was looking at myself, photo-woman gained fifty pounds and had ridiculous hair. I know better than to trust my eyes. And I've never been big on mirrors.
"You look great," the girl proclaimed. "You should always feel great when you leave home, or what's the point?"
Silly question. The point is whatever you're doing, whomever you're going to see.
In the mirror, I saw someone with lumps and bumps and scars and stretch lines and tired eyes; life leaves marks. But most of the lines on my face come from smiling.
I saw a woman who's happy with her life, but not quite sure about the future. I saw someone who doesn't like change. Not even when it comes to blue jeans.
But that woman in the mirror, she was still me.
The new jeans are fine. More fitted at the bottom than what I'm used to. Maybe that means I won't step on them as much.
Topics: Writing | 2 Comments »
By Erin Thomas | January 21, 2014
It's always exciting when a new book arrives by mail. It's even more exciting when that book is authored by a friend and writing colleague, and when you've been looking forward to reading it since before it was even finished!
The other day, Jacqueline E. Garlick's debut novel, Lumiere, arrived on my doorstep. Jackie knows how to do "new book" like nobody's business. Check out the fun selection of extras that came in the package for advance-order books! Character sketches, art, secret messages, a letter from the author, tea packets… the long thing that looks like a syringe is actually an "invention" of one of the characters in the book. It seems to be some kind of wire-tipped, grippy picker-upper thing, like the claw in the Toy Story movies. (Oops, I just re-read the letter that came with the package. Apparently it's a pickle-stabber!)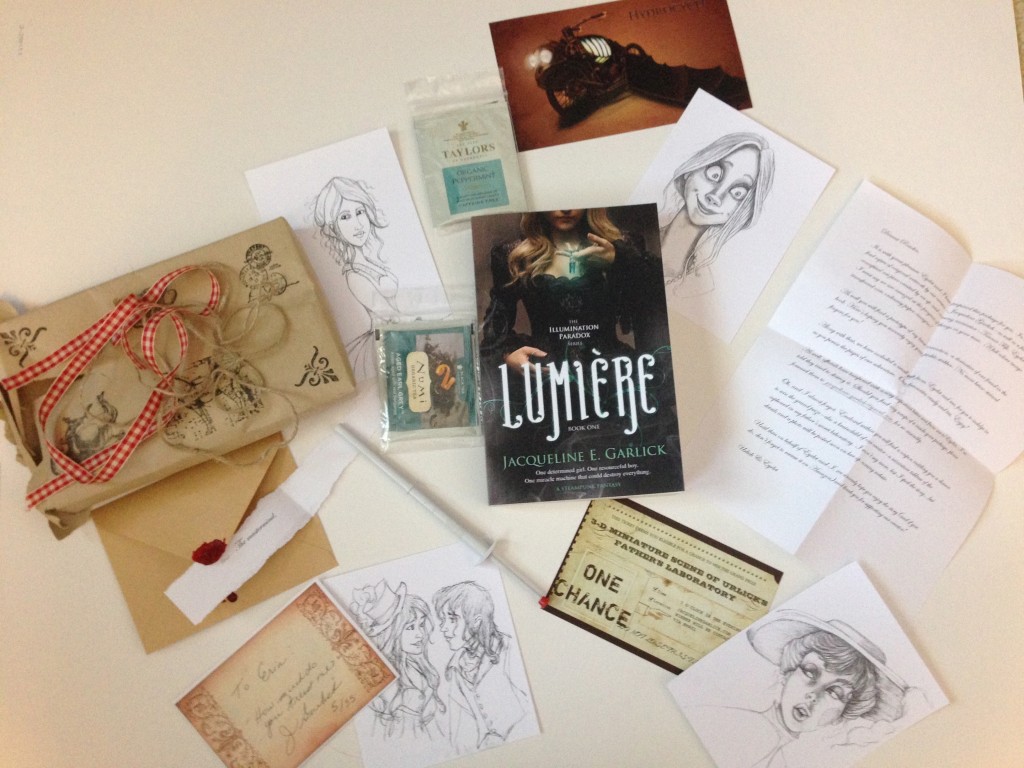 And, of course, the book was nicely wrapped in that brown paper with the Victorian-style stamps on it, tied with brown string and red-checked ribbon. Just the sort of thing to appeal to a bibliophile's heart.
I can't read it yet because I'm reading an ARC of Ken Oppel's new book, The Boundless, for review (and let me tell you, so far it's awesome). But I'm looking forward to diving into Lumiere. I already snuck a peek at the opening scene, and loved it.
So many exciting books to read, so little time. It's kind of a pretty problem to have!
Thanks for a fun book-opening experience, Jackie!
Topics: Writing | No Comments »
By Erin Thomas | January 3, 2014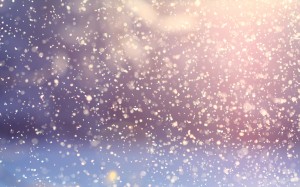 Happy new year, everyone!
I'm embarrassed to say, I didn't make it to midnight on the last night of 2013. Not even close. We'd hosted a three-kid sleepover (kind of like a three-car pileup, only noisier) the night before, and so on the big evening, I dragged myself to bed at 10:00.
The truth is, I've never been big on the new year. I like the idea of starting fresh, but I want to reserve the right to do that any old time, not just  January 1. I like my life divided into smaller, more manageable chunks; a year is just too much to look at.
This year, there are a few "fresh starts" I'm excited about. The first will be the publication of my new book in the Orca Limelights series, Forcing the Ace. This will be, officially, my first book that isn't for reluctant readers. I've worked hard on it, and I'm proud of the way it's shaping up. There's still a lot of work ahead, but the end is in sight.
I'm also teaching a writing workshop at Blue Heron Books in Uxbridge, as part of their "Winter in the Studio" series. This will be a six-week course devoted entirely to writing for the YA audience. I'm excited about the chance to go a little deeper, spending six weeks talking about books for just this one age group, from all different angles. Here's the write-up from their brochure:
* * *
WRITING FOR THE YOUNG ADULT FICTION MARKET
Remember being a teen? First times. Intense feelings. Everything changing, all at once, as your world seems to grow bigger and smaller at the same time. Join children's author Erin Thomas for a six-week look at novel writing through a YA-specific lens. Previous writing experience or a course in writing for children is recommended but not required. 
6 weeks — Tuesday, February 18th to March 25th, 7pm to 9pm $150
* * *
The drive to Uxbridge that time of year could get a bit dicey for us out-of-towners, but I promise to make it worthwhile!
Also in February or March, my husband and I will be going away for a long-weekend writing retreat. Well, I'll be writing. He'll be coding. I already know what project I want to work on, and I'm thinking about ways to lay the groundwork for it, once I finish the edits on Forcing the Ace. It's great to have the chance to really focus on a story, even for just a few days.
And I'm excited to be returning to Centennial College as an instructor in the spring/summer term. Last year was my first time teaching the Children's Books course, as part of Centennial's post-graduate program in Children's Entertainment. It was a LOT of work, but I loved having the chance to meet and work with some great people. Some of them are working towards publication, now that the program is over, in addition to starting jobs in their fields. It's wonderful to see. I'm looking forward to teaching, and learning from, this year's group.
Those are the "fresh starts" I can see from where I'm standing. Big and small things I'll be doing in the new year, which I want to do as well as I can. Little arcs, with starting points and finish lines.
Do you make resolutions? Any exciting ones this year, or maybe just things you're looking forward to?
All best wishes to you and yours in the new year.
Topics: Writing | 1 Comment »
By Erin Thomas | November 29, 2013
There's a production of Fiddler on the Roof on at St. Mark's United Church in Whitby — my church. My daughter is in the show, which means I've seen a whole lot of Fiddler rehearsals over the past few months! I could probably sing most of the songs by heart… if I could sing, that is. It's best for all concerned that I remain offstage.
I love this story. There's so much in it — funny parts, sad parts. Parts where you want to kick the main character in the behind (I'm looking at you, Tevye, you stubborn fool). Parts that stay with you.
And I love this cast. Well, both of them. There are two, performing on alternate nights. They've each done one show now, and each have one more to go.
The interesting thing, I found, was how differently the two shows performed so far have been received.
The show ends with everyone leaving the village of Anatevka, which has been their home for generations. In our production, Tevye is last off the stage. He pushes his milk-cart, laden with the family's belongings (how do you pack up a life?), slowly up the centre aisle. You can see the weight of history tugging at him as the lights dim. Bill Treadgold, our marvellous show-runner and pianist, plays three deep, dark chords on the piano and lets them echo around the church sanctuary and fade away. The sanctuary is barely lit; streetlights filter in through the stained glass windows. And that's it. That's the end of the show (except for the happily upbeat bows and final chorus of L'Chaim).
On Wednesday night, the audience sat in the dark in silence. The pause stretched out until one of our cast members started the applause, to let the audience know it was okay to clap. And to move, and to breathe. The lights came back on, and the applause lasted a long while, ending in a standing ovation.
On Thursday, applause was almost instantaneous, and the crowd barely waited for the whole chorus to run back onto the stage before jumping up into a standing ovation that lasted until after the last bow was taken. I stood on tiptoe and held my camera up high over my head to film the curtain calls from the back of the church.
Maybe the Thursday night group was just rowdier. Maybe it was because people came back to see the show again, to see the other cast, and knew from experience when to clap. Most obviously, maybe it was the slight differences in the way the different casts performed–lines delivered with different emphasis, different gestures; different personalities shining through. The play landed beautifully both nights, but it didn't land the same.
I think it's more than just the difference between the casts. I think that when I go back to see the play tonight, with Cast A performing again, I'll see a show that I haven't seen before. A show that's ever-so-slightly different from the Wednesday and Thursday night ones. And ever-so-slightly different from the Saturday matinee that will follow.
The thing is, I saw them rehearsing. I saw them rehearsing many, many times. And they were fabulous in dress rehearsal. They nailed it. If they'd done the show just exactly the way they did it last weekend, it would have been great. But they didn't do that. They made it even better. They dug deeper, made their characters more real, felt their lines more strongly. They brought it to life.
I don't think they saved this energy for the performance on purpose. Nobody holds back during dress rehearsal; it's just that something different and wonderful happens when you add the audience into the mix. Because the audience brings their own energy, and the actors sense that, and maybe even shape it, and build something new.
I don't know how it works. But it seems as if something new was created at each show that was just that night, made out of just those circumstances and that combination of people. Those things can never be repeated, so the show will never be exactly the same again. It will be wonderful in new ways, but never exactly the same.
On Twitter yesterday, I came across a link to this picture, taken outside a bookstore in Australia. Humour me — this has been a big week for Doctor Who fans. The idea is that a book, like a Tardis, is bigger on the inside.
That's something I think about a lot, in writing. A story is never the same twice; it depends so much on the person reading it. Sometimes I'm afraid to go back and read old favourites, in case they're not the same. How can they be?  I'm not the same person I was then.
The experience of story is created in the space between the words on the page and the mind of the person reading them. A book needs a reader. Maybe a play is like that, too; it needs an audience. I thought I'd seen the play in rehearsals, but I was wrong, because the real performance was something new, something entirely different.
St. Mark's Players — thank you for all your hard work! I can't wait to see what you do tonight and Saturday!
Topics: Writing | No Comments »
By Erin Thomas | August 29, 2013
For some time now, I've been working on a book about a teenaged magician. Magician as in sleight-of-hand, not as in Harry Potter. It's slated for publication sometime in 2014, as part of Orca's new performing arts-based series, Limelights.
And as I've been researching the book, I keep coming to the same conclusion:  I really like magicians. As it happens, they're a lot like writers. For one thing, there's an awful lot of work behind the scenes before anything ever reaches an audience.
I've had the chance to interview a lot of people, about a lot of different things, over the past few years. Being a writer sometimes feels like a get-out-of-jail-free card for nosiness. And people are generally happy to talk about what they do for a living, or what they care about. But magicians… they go beyond that.
Magicians create wonder for a living. They learn how to connect with people. Because without that connection, there's not nearly the same impact when you make the impossible happen.
But a lot of magicians are introverts at heart, so when you're hanging out with them, it never feels like being at a sales convention (which is what I imagine a haven for extroverts must look like… in short, my vision of h-e-double-hockey-sticks). You're not overwhelmed. They're quite happy to practice their card handling off in the corner. The connection point is magic. Once you ask about that, they light up.
And of course they'll show you a trick. They'll show you five!
Today I had the incredible opportunity to visit Sorcerers Safari, a week-long camp for magicians that takes place in Ontario for one week each summer. Campers come from all around the world to attend. The camp is run by "Magic" Mike Segal and his wife, Jennifer.
It's possible that I was the only Muggle in the place. Kids younger than my daughter quite gleefully fooled me with their card tricks. And despite months of researching magic and acquiring a passing familiarity with how these things are done, I fell for it every time.
Honestly, even when I knew the trick behind the trick, it didn't matter. It was still astonishing to see it done, up close and out of nowhere, something impossible taking place before my eyes. To be holding a deck of cards while a ninth grader made one of them disappear and reappear somewhere else. To watch a pack of cards change colour. Or to see the card I was thinking of appear on a phone screen.
To quote one of the counsellors: "When was the last time something truly astonished you?" He emphasized the word time. More than once. To draw my sluggish attention to the fact that he had stolen my watch right off my wrist, during a card trick.
The White Queen's line about six impossible things before breakfast could be a camp motto.
Here's the thing, though: even though I was fooled at least six times within about ten minutes of arriving at camp, it never once felt that the kids (or counsellors) were having fun at my expense. Nothing was taken from me. Okay, except the watch, but that's not what I mean. Each magic trick was a gift. Something cared about, something worked for, something shared. I felt honoured.
And all they wanted in return was a reaction — which I couldn't have helped giving, anyhow.
It's fascinating to hear magicians talk about their craft. It seems that each trick has a pedigree, and they want you to know who invented it. "This is from X by Person Y, by way of Person Z." Which to me looks exactly like the other trick, which was from A by Person B, with a little flavour of Famous Routine C. But even though the end result is the same (missing card? found card!), the handling may be completely different, so it's night and day to the magician.
Kind of the way writers feel about word choice. Sure the character crossed the room, but did he slink? Leap? Stride? Please tell me he didn't walk quickly — adverbs can be so sloppy.
And sometimes the simplest stuff is what plays best to the audience. There's a parallel to word choice there, too.
A magic routine can be strengthened by paring away what's not essential. Slow down. Leave out some of the patter. Let the magic speak for itself. It sounds like my favourite editing advice, which I first heard from Kathy Stinson: what doesn't add, subtracts.
There are other parallels too. The learning through critique groups. The deep respect for others in the craft, and the generosity in sharing knowledge. The passion and glorious, hard-core nerdiness with which magicians embrace their art. I really felt like I was with a group of writers, except that they all had Sharpies instead of pens, and playing cards instead of notebooks. And scarce a one of them wanted to talk books.
I wasn't with my "tribe" today. Not exactly. But I was sure reminded of them in all the best possible ways.
So this is a preliminary thank you to all the magicians I've met or corresponded with, and especially to those who were at the camp today. Thank you for your help. Thank you for sharing your time, your experience and your magic.
You make the world a more wonderful place.
Topics: Writing | 6 Comments »
By Erin Thomas | June 13, 2013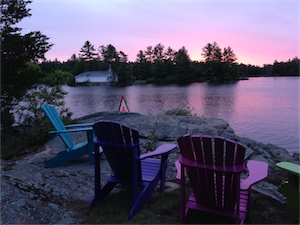 I love Writer Unboxed. I do. It's one of my favourite writing blogs.
Today's article, though, has me a bit riled. It's called "Why the Hero's Journey is a Tourist Trap." As it happens, I spent last weekend at a two-day seminar in Toronto, along with some very talented, dedicated writer friends. (Hello Anne Laurel Carter, Lena Coakley, Jennifer Gordon, Karen Krossing, Gwynn Scheltema, Rebecca Upjohn Snyder and Maaja Wentz!) The speaker was Christopher Vogler and the topic was, of course, the hero's journey.
Since I'd been meaning to blog about some of what I learned, today seems as good a day as any!
For those of you who don't know, Christopher Vogler is the author of two books on writing: The Writer's Journey and Memo from the Story Dept.
The first, The Writer's Journey, is about using mythic structure to support your writing. Also, as it happens, your writing life.
This was the first "real" book I ever read on structure — maybe even the first "real" book I ever read on writing. By that I mean it's the first book I read cover-to-cover that went beyond the basics of how to put a sentence together. It was the first one that resonated and made me think there was more that I could learn about writing than what we learned in high school. That writing wasn't just for the special few people who were born with the magical gift of being able to create books. That this was something that could be learned and that maybe, just possibly, I could learn it too.
In the past years, the hero's journey hasn't always been my go-to resource in terms of structure. I discovered others: Robert McKee, John Truby, Michael Hauge, Jack Bickham, even the late Blake Snyder. Like many novelists, I tend to expose myself to a lot of ideas and keep what works for me — which changes from year to year and from project to project.
But the hero's journey made an impression. It matched up with some of what I learned in Psychology classes at university. It matched up with many of the fantasy books I loved so much as a teen. And parts of it just felt right.
Also: Star Wars. 'Nuff said.
I'm not going to outline the steps of the journey here. Vogler's book does a much better job of it than I ever could. But the gist of it is that the hero starts out in an ordinary, everyday world. He experiences some kind of trigger or "call to adventure," and ends up having an experience in a new, "special" world, which brings him face-to-face with his greatest fears and transforms him. He then returns to the ordinary world  bearing some kind of "elixir" — which might just be knowledge that he obtained or insight into a new way of living — which he shares with his community.
Does it even sound like it should be taken literally? Some books do that, granted, particularly in the fantasy genre, but the structure certainly doesn't need to be used that way. A special world might be somewhere new and strange and magical, like Oz. It also might be a new circle of friends, or simply a new way of behaving in the world we live in every day. Trying on a new persona.
Christopher Vogler wasn't up there at the front of the classroom encouraging us to churn out cookie-cutter stories. I think he'd cringe at the suggestion. (He comes across as an absolutely lovely person, by the way — warm and caring and genuine and passionate about his work.) He's all for the cherry-picker approach. Use the pieces that work for your story, he said. Think about what insight you can gain into your characters by considering what archetype they are most closely linked to in a given scene. Double up on story points if you need to. Move them around. Play. Hamlet, he pointed out, can be seen as a series of calls to adventure and refusals that build and build until the end.
I can't speak for the instructor in the Writer Unboxed article who insisted that a character needs to cross water at some point in the story. Sometimes having a physical barrier of some kind, or a line that needs to be crossed, can be effective. Sometimes not. It can't possibly be a requirement of every story.
Sometimes it's tempting to use these approaches to plot structure as checklists. They're not that. I like having a conscious understanding of the different ways a plot can be put together because when I get into trouble, it helps me work it out. I'll hold my manuscript's saggy middle up against different suggestions that these story structure gurus have about what happens at the midpoint of a story, and see what I can learn. But I'm not going to have a hissy fit if my "midpoint" isn't at page 100 of a 200-page novel. (Of course, if it comes on page 183, there might be a problem…) And I'm not going to slot in an event that doesn't feel right just because a textbook told me to. What I can do, though, is consider the different suggestions. Try different ideas and see what works.
Character comes first. Story is about character. It's about what they want and need, and what they'll do to get it. It's about how they interact with others, and what they learn. How they change.
It's not the easiest thing in the world, creating a character and telling their story properly. I'll give brain-space to anything that can help me do it better. Dismissing a strategy blindly, I think, is as bad as following it to the letter.
So, for my two cents' worth, the hero's journey is worth considering. Read up on it. Read Vogler's book, and read Joseph Campbell. And tuck what you learn away, and bring it out when you need it. It won't fit everything you write, but once in a while, it might just give you the insight that you need.
So that's your "call to adventure." Now, go!
Topics: Writing | 1 Comment »
By Erin Thomas | May 7, 2013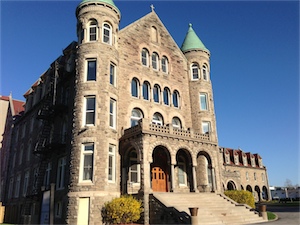 Last weekend I met rock stars! Well, they are to me.
YA Authors Ellen Hopkins and Sara Zarr. Middle-grade author Kimberly Griffiths Little. Susan Rich, the editor behind the Lemony Snicket books (yes, she knows the actual, real Lemony Snicket). Laura Biagi and Susan Hawk, literary agents working in the United States. And editor and writing instructor Lorin Oberweger.
Actually, I already knew Lorin, but she's absolutely brilliant, and her talk on the Hero's Journey in children's literature was about half the reason I signed up for the conference. That, and the fact that it was such a wonderful learning experience last year.
Jackie Pynaert is the mastermind behind the whole thing. She is… well, the word 'powerhouse' comes to mind. Jackie has a knack for bringing people together from all around North America,and for making things work by sheer force of will alone. She's astonishing.
So here's some of what I learned.
The story you need to tell is the one that keeps you awake at night. The one that you're scared of, the one you can't not tell. (Ellen Hopkins)
One way to edit is to read aloud only the dialogue in the scene. Can it stand alone? If not, strengthen it and make sure all the voices are clear. (Jackie Pynaert)
Know the industry. Know what's selling, know who is publishing what; learn the "personalities" of the different publishers. Read everything you can get your hands on, and have opinions about it. And pay especially close attention to the books you like and love, and who is working on them. (Susan Rich)
The Hero's Journey is really about the transformation of the character's psyche as a result of the experience they undergo. (Lorin Oberweger)
The change in a character doesn't have to be a huge thing. It can be a shift. A course alteration of two degrees isn't much in the moment, but in the long term, will take you to a very different place. (Sara Zarr)
Picture a bead necklace. The events in the story are the beads, but that's not the plot. The thread that holds them all together is the plot. It needs to be kept taut. (Susan Rich)
Cultivate a reckless optimism! (Sara Zarr)
At a good conference, there will be a moment when it feels like someone opened a window in your mind. At a great conference, there will be several of those moments. I learned a lot this weekend. Some of it was exciting, some affirming, and some downright mind-blowing. And some of it was rather difficult to hear.
One thing that I was told was that although my writing is strong (yay!), it may be time to put the book I've been working on away. Not for a little while. Away. And write something new. Ouch.
I trust the woman who told me this. She's probably right. I started this book a long time ago, and I've learned a lot since then, and revised it every year or so for rather too long. It's a bit of a jumbled mess in places. But I'm not quite ready to walk away from it yet. I want to finish my current revision, and there's a technique I learned at the conference that I want to try.
After that, yeah. It's time. It will go to my agent, who will have  more perspective on it than I do by now (which is zero). And if she says it's time to send it out, that's what we'll do. That's what I'll hope for. But if she agrees that it's time for it to go Into The Drawer, then I have a whole lot of other stories I've been waiting to write. Some of them are pretty exciting.
And there are all these new ideas from the Niagara conference that I'd love to play with…
Topics: Writing | No Comments »
By Erin Thomas | April 5, 2013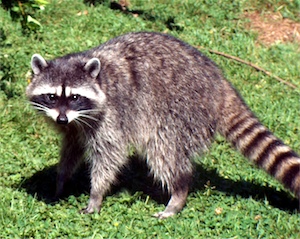 We had an interesting morning.
A squirrel recently moved into our house, between the first floor ceiling and the second floor floorboards. We didn't know what it was, of course, only that my husband, Aaron, was hearing loud, scrabbling footsteps overhead while he was at work in his office. So we called Paul, a local animal removal expert, to help us re-home the critter.
Paul worked out where they were getting in, and set a "live trap." It's like a little cage, and the critter goes in to get the food but their weight triggers a door to fall shut behind them. Scary for them, I'm sure, but then Paul releases the animals into a more appropriate setting.
The first attempt at live trapping failed. Apparently our garage (attached to the house, but with no door into the house) is home to mice as well, and they stole the food without triggering the trap. So then the live traps were set outside, one on the fence, one on the garage roof.
On the garage roof, we did catch a squirrel. My daughter and I drove home one night from swimming or choir or piano or who-knows-what, and saw it up there — a poor, wee black squirrel going absolutely frantic. It was heartbreaking.
It was also coming on nightfall, and terribly cold and windy. We called Paul, and he said he'd come by in the morning to collect it. It would be fine overnight, he promised.
Sure. Probably. But I wouldn't like to be in a cage, on a roof, in the wind.
Aaron pulled our ladder out of the garage and climbed up to bring down the squirrel. We left it in the trap, but set it in the garage, out of the wind, and draped a beach towel over the cage for warmth. I'm not sure what Paul thought, when he came to collect it and found "hotel squirrel."
Paul took the squirrel to its new home and set the traps out again. This time, my daughter and I watched in delight as a bird entered the trap and enjoyed the food without triggering the door release. Clever!
The next bird wasn't so lucky. That was last night, and Aaron climbed up on his ladder again and released the bird. My daughter and I cheered when it flew away. There was no bait left, so the trap sat empty.
Paul came by this morning. He thinks that the squirrel we caught was the one who had moved in. There haven't been any more rustlings or scrabblings between the floors. He sealed up the opening where they had gotten in. And then he asked us a favour.
Would we consider loaning out our garage to a family of raccoons overnight?
He had caught a mother and her new babies earlier this morning. My brother had a raccoon family in the attic once, in his old house. Based on his story, I was impressed that Paul didn't look like he had gone three rounds with a furry, clawed Mike Tyson.
These babies, Paul estimates, were only born Monday. He had warmed them up and given them some milk, and he brought them into our house in a little thermos lunch pail, which our daughter was happy to guard from the dog. He was — is — going to release the family into the local Lynde Shores conservation area, but this morning it was still too cold. He wondered if they could spend the rest of today and tonight in our garage, to get the family settled together again. Tomorrow, later in the day, he'll come by and bring them to their new home.
We gathered some old towels and cloths, for Mama Raccoon to build into a nest. Paul got her settled, then dropped the tiny, bald, squirming babies in one by one. There's a can in there, too, which Mama Raccoon will apparently open later and have for a snack. I didn't know raccoons could do that.
So there's a raccoon family in our garage now, nestled into old towels in their cage, covered up by Noah's Ark bedsheets that date back to when my brother and I were kids. And my daughter is absolutely delighted to play host to a raccoon family, and I'm sure her friends at school are hearing all about it, even now.
And this has absolutely nothing to do with writing, except that it's cool. It's the sort of thing that would make a good picture book, if one felt inclined to play fast and loose with the facts. There, see? Always a writing angle.
I expect that later tonight, we'll be having a talk about why wild animals (particularly raccoons) don't make good pets. That one's a bit of a family legend, since my mother and her siblings adopted a baby raccoon once, back in the early fifties. Eventually "Rocky" had to be rehomed, just as our overnight guests will. Maybe we'll call up Grandma and let her tell the story herself.
We're not going to have much to do with the raccoons. They're better left alone, I think. We've given them a warm, safe place, and now we should stay the heck out of their business — much as it would be tempting to go take pictures and ooh and aah over the babies. I'm not even going to take a picture for this blog post — an Internet raccoon will have to do.
But my husband did take a video, as Paul was setting them up in our garage. You can see it here. Don't mind the mess. The old-fashioned blue bicycle in the background is mine, and her name is Sadie.
So there you have it. Now my family has our own raccoon story to tell.
I hope it has a happy ending.
Topics: Writing | 2 Comments »
By Erin Thomas | March 20, 2013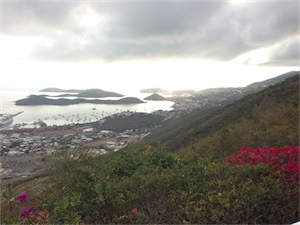 Guess where I was earlier this month!
You're jealous, aren't you? I don't blame you. I've been feeling jealous of trip-Erin, too, this past week while it's been blustery and damp and cold. Shovelling heavy, wet snow. Driving my daughter to choir practice in an impromptu blizzard. Working through mountains of laundry and folding shorts and tank tops that won't be worn again for months.
But the snowdrop flowers are up in my garden, so I know it won't be long now before the snow disappears.
I wouldn't trade it, though. I like having seasons. And St. Thomas, lovely as it was to visit, is not somewhere I'd want to live. (Even putting aside the logistical difficulties of going through an entire bottle of SPF 8000 sunscreen every three days and wearing a hat the size of a satellite dish.)
It would make one heck of a setting, though. Here is some sunny-weather fuel for you writerly types.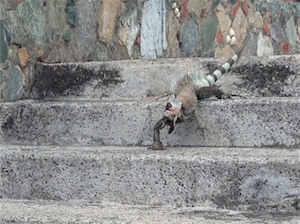 Lizards. Iguanas are everywhere. Like squirrels! And little geckos, too, which are breathtakingly cute, but it was the big, clumsy, bearded iguanas that we really loved. Except maybe my mother-in-law, when one of them fell out of a tree and nearly landed on her head.
The lizards are important, though, because they help control the bug population. And St. Thomas has some nasty bugs, including scorpions and tarantulas. We didn't see any of those, though. Except maybe that one thing that might have been… never mind.
Anyhow, the security guard at the airport told my daughter that the tarantulas only come out at night. They only tend to see them in the morning, on the road, if one got squished by a car. And I want to feel sorry for the poor little tarantulas, I do, but I'm really struggling with this one.
There was a teeny gecko lizard hanging out on the ceiling of our bedroom one night. I was happy to see him there.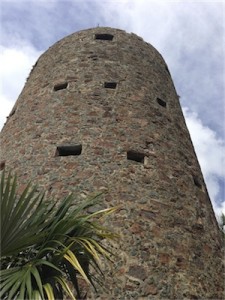 Pirates and History.
This, apparently, was Blackbeard's lookout tower. My husband and I climbed it and looked out through the wee windows all around. Some nice girls took our picture together.
There's a beautiful beach at Magen's Bay, but that's not why the pirates showed up. Magen's Bay is a lovely, deep natural harbour. And back in the days when Pirates of the Caribbean meant more than just a Johnny Depp vehicle, St. Thomas did a roaring trade in Jolly Rogers and buried treasure.
Or so goes the line in the tourist shops.
St. Thomas makes a big deal of its pirate-y past, because that sort of thing plays well for visitors. There's another history, though, and it's a dark one; St. Thomas was a slave trading port. So this was the place where, when families were brought over from Africa, they were split up and sent their different ways.
There isn't so much about that in the touristy places.
We ate at a fancy restaurant one night. It used to be a plantation. There weren't a lot of them on the island; St. Thomas is very hilly and not great for agriculture. Not like St. John, next door. But there were enough low-lying lands that there were some plantations, and there are a few colonial-style buildings left from that time.
Anyhow, eating at the plantation was a strange, split experience. I kept looking around and trying to see it the way it was before, and thinking about what that would have meant for the different people involved.
It was hard to get at the island's history. My husband and I went on a walking tour, but it was a bit jumbled, and a lot of the places that were posted as museums turned out just to be shops inside old buildings. Maybe that's what most visitors are looking for. A few hours off a cruise ship isn't enough to get the feel of a place. A week isn't either. Not nearly.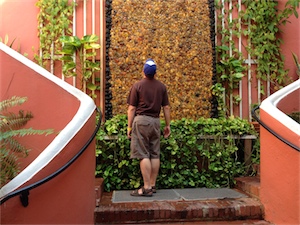 Amber. I saw some beautiful things, and learned some cool stuff. There's an amber waterfall there, the biggest in the world, we were told. It's two stories high. This is my husband standing in front of it.
The amber museum was actually one of the most interesting stops. The guide there was a lovely woman who knew lots and was happy to share it.
Some of what she told us wasn't even about the Caribbean, exactly. Apparently there was an Amber Room in Russia, in the palace of Peter the Great. After World War II, the room was looted and most of the artifacts went missing. There were a couple of replicas in the amber museum, which was what prompted the story.
She gave me a large piece of amber to hold, and pointed out how light it was–like plastic. "These things show up at yard sales," she said. "Keep your eyes open. You never know." Apparently there are huge rewards for the return of the artifacts, and people who have invested years in searching for them. So there's a story starter. Go ahead. You're welcome.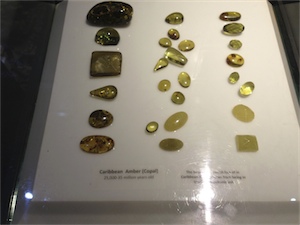 Something more scientifically interesting was that the Caribbean is one of the only places where green amber is formed. Usually, different colours of amber come from inclusions or from the different types of tree sap that fossilized. Maple trees, apparently, create a rich, red amber. Yay, Canada!
But in this case, the green colour comes from a chemical interaction between the tree sap and volcanic ash, as the amber is forming.
The amber museum was fabulous. There was a dinosaur footprint there, in amber. I loved that! And there were some giant, crazy pieces of jewellery-meets-art, which were interesting to look at but I can't imagine anyone actually wearing. Probably that's not the point of them.
There was a giant bee sculpture made of amber, which I tried and failed to get a good picture of for my sister-in-law. And something I though was quite beautiful, a sculpture of the Nina, the Pinta and the Santa Maria, all sailing on a glowing amber sea.
We're back with the tall ships now, and the pirates. I do like pirates, as long as they're safely in storybooks.
A Dry Island. My brother is a firefighter. So when we saw the fire station in Charlotte Amalie, I had to go take pictures of the trucks for him. Aaron and I ended up talking with some of the firefighters there.
In St. Thomas, after a certain point up the mountain, there's no water supply. The lowlands have  hydrants, but for all the villas up high were the views are so beautiful, water supply is dependant on rainfall. Instead of basements, houses have giant cisterns where rainwater is collected and saved. That's what comes out of the taps and showers, what flushes the toilets. You have to be careful not to use too much, especially when you're there just after a dry spell, as we were, because you can't know how long it will last.
As you can imagine, this presents a problem for firefighting.
My father-in-law, a contractor, pointed out that there's not much in the villa we stayed in that would burn. The furniture, certainly, but all of the walls were concrete. Even so, there had to be an answer. I asked.
They drive the water up. Giant trucks, heavy with water, on those twisty, windy, mountain roads. If there's a fire on the mountain, water trucks from all the fire stations on the island come (there are four, I think they said), and they take turns running for water.
They also use a chemical fire suppressant mixed with the water, which starves the fire for oxygen and makes it so they don't need as much water to put out a fire.
Also, because this is a tourist island, they had United States Virgin Island Fire Department t-shirts for sale. In the fire station.
I bought one for my brother. Why fight the inevitable?
That's all the St. Thomas info for now. But if winter lingers, I'll rummage through the beach photos and come up with another blog post!
Topics: Writing | No Comments »
« Previous Entries