It's always exciting when a new book arrives by mail. It's even more exciting when that book is authored by a friend and writing colleague, and when you've been looking forward to reading it since before it was even finished!
The other day, Jacqueline E. Garlick's debut novel, Lumiere, arrived on my doorstep. Jackie knows how to do "new book" like nobody's business. Check out the fun selection of extras that came in the package for advance-order books! Character sketches, art, secret messages, a letter from the author, tea packets… the long thing that looks like a syringe is actually an "invention" of one of the characters in the book. It seems to be some kind of wire-tipped, grippy picker-upper thing, like the claw in the Toy Story movies. (Oops, I just re-read the letter that came with the package. Apparently it's a pickle-stabber!)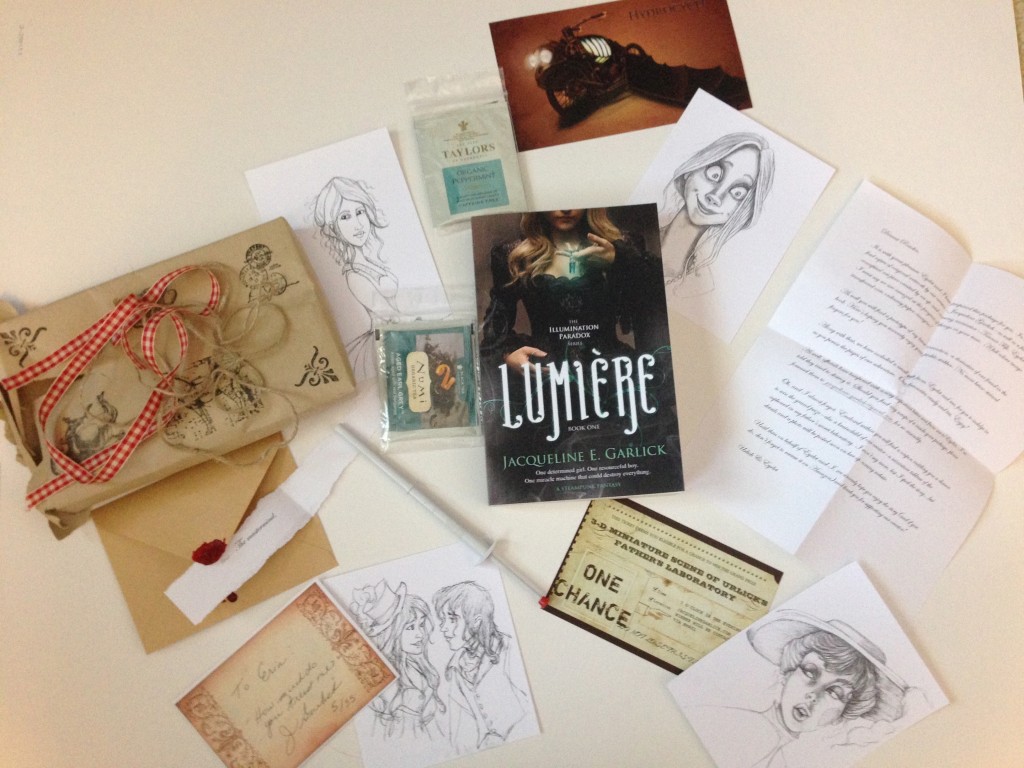 And, of course, the book was nicely wrapped in that brown paper with the Victorian-style stamps on it, tied with brown string and red-checked ribbon. Just the sort of thing to appeal to a bibliophile's heart.
I can't read it yet because I'm reading an ARC of Ken Oppel's new book, The Boundless, for review (and let me tell you, so far it's awesome). But I'm looking forward to diving into Lumiere. I already snuck a peek at the opening scene, and loved it.
So many exciting books to read, so little time. It's kind of a pretty problem to have!
Thanks for a fun book-opening experience, Jackie!