On my recent trip to Vancouver (yes, the sticky notes trip), I took the opportunity to visit Orca Publishing in Victoria. It seemed silly to cross most of the country, and not take the extra day to meet the people I've been working with over the course of two books now.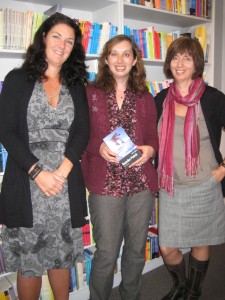 Christi Howes, Erin Thomas and Sarah Harvey at Orca Publishing
"The Pod," as I'm told it's called, is a gorgeous, cozy, two-storey building near downtown Victoria. It's yellow. I wish I'd taken a picture of the outside of it. Instead, I offer this picture of me with editors Sarah Harvey and Christi Howes. (Note how carefully we all coordinated our outfits.)
Inside, editors and marketing people and all the other team members who bring books to life have their desks in close, colourful workspaces. There's even a "Harry Potter space" under the stairs. Books and posters are cheerfully everywhere. In some ways, it reminds me of Mabel's Fables in Toronto.
I didn't get to meet Andrew Woolridge, who was out, and the publicist I've worked most closely with (Leslie Bootle) was off preparing for her wedding, but I was very happy to meet my editors, Sarah Harvey and  Christi Howes, in person. Christi even took me out to lunch, where she revealed her humanitarian side by performing a catch-and-release rescue on a wasp in the restaurant.
Sometimes it can be strange, meeting someone in person for the first time when you already have a working relationship, but both Sarah and Christi were wonderful. They made me feel welcome, which is no small task given how busy the average editor's day is. Christi did mention that, once again, they're looking for more titles for their Sports series. If you're a writer, and if you have a book idea that feels like a fit for that series, give it a shot. I can vouch for the people at Orca being great to work with.
And if you're in Victoria, look them up. The Pod is friendly.