First, a smile for the day: check out this video shared with my writing group by friend and author Bill Swan: All You Need to Know About Fonts.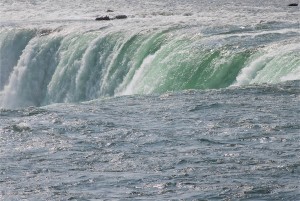 This past weekend was the SCBWI (Society of Children's Book Writers and Illustrators) conference in Niagara Falls, Canada. It was a horizon-expanding experience. Presenters included Kathleen Duey, Lesley Livingston, Nancy Conescu of Penguin U.S. (Dial Books for Young Readers), Tracey Adams of Adams Literary, and Emma Dryden of Dryden Books.
I take a lot of writing courses, and read a lot of books on writing. But at this conference, not only did I meet wonderful people, I learned to think about writing in a new way. I can see, sort of, what I need to do to grow as a writer. It's going to mean taking risks, and maybe even trying things that (gasp!) didn't come from a how-to book.
I feel good about the skills that I have. And excited about the things I'm going to try.
Okay, enough gushing. Here's what will be more helpful: some ideas from the conference.
From Lesley Livingston, who spoke on writing a series:  Make sure the world of your novel is a big enough sandbox that you'll want to play in it for a while. Know your setting, beyond the borders of your story. Pay attention to even minor characters, and know that they all have quirks and desire and backstories. Know what those are, even if they never appear in your book.
To my way of thinking, even if I don't write a series, this approach will make for a better standalone novel.
From Kathleen Duey, who gave the keynote talk and a seminar on world-building:  place comes from character. If you start with character, and ask your character questions, and answer those in an honest way, your place will grow out of that. How was the place they grew up in, or their early childhood home, different from where they are now? Why did they leave one for the other? Now you have two settings and a feeling about each. What experiences shaped your character? Where did those experiences take place?
One of the most wonderful things she said was that she doesn't believe anyone can become a writer, and learn to think about people the way a writer must, without doing some good in the world.
From Nancy Conescu, who discussed her role as an editor and what makes work stand out: Voice is what makes you care about the writing, what gets you invested. It's your connection with the characters. Characters need to feel authentic. They need to be strong and special; they need to have spunk. There needs to be a reason for the reader to care about them. The best series books are those that come about as a result of readers wanting to spend more time with the character, rather than being artificially planned as a series from the beginning.
It was great to find out that editors become as invested in their books as writers do. The books are their babies, too, and they care about them.
There was more. Tracey Adams shared examples of queries that had worked and explained what was good about them. Emma Dryden spoke about the changing face of publishing and the 'digital landscape.' She encouraged us not to take notes, because things are changing so quickly! But she reassured us that whatever the medium, the point of story hasn't changed.
And Jackie Pynaert, one of the conference organizers, gave us hope and encouraged us all to keep trying with her talk about 'when pigs fly.' She even brought along a statue of a pig with wings. Tiny wings. Her pig's wings are still growing, she explained.
Mine, too. And I'm loving every minute of it.
If you're interested in writing for children, the SCBWI Niagara conference (May 3-5 next year) needs to be on your calendar. It's a small conference, with lots of chances to interact with everyone. It's held in Niagara Falls, in a haunted monastery! (A haunted monastery that serves great food, by the way.) And it's magic.
I hope to see you there.