Last Friday, I attended the Whitby Forest of Reading celebration with my daughter. Kathy Stinson was one of the invited authors and we had plans to have tea together after the ceremony. I didn't realize until later that another friend of mine, author Anna Kerz, was also going to be there.
Sarah and I showed up early. Hours early, as it turned out. Ms. Lauren Flattery, teacher-librarian at Cadarackque school and Master of Ceremonies, was gracious enough to allow us to attend, when it became clear that the event wasn't quite as open-to-the-public as we had hoped. She even invited us to sit with her school. (I think that warrants a thank-you note and some donated copies of my books, don't you? At the very least.)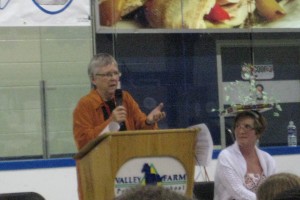 This was my first time attending a Forest of Reading event. It was wonderful to see so many kids, so excited about books! There were students there from over sixty Durham schools. And the authors in attendance — Kathy Stinson, Anna Kerz, Jan Andrews and David Skuy — all had autograph line-ups that stretched halfway around the arena.
Jan Andrews was the first speaker. She talked about how books and stories give us things to keep alive in our hearts. Her book, When Apples Grew Noses and White Horses Flew: Tales of Ti-Jean, had won the Silver Birch Express (reluctant readers) award. She said the reason the award meant so much to her was that most awards are chosen by adults, but this one is chosen by the people who are her readers. We write books because we have something we want to give to the world. In reading the stories of Ti-Jean, readers become part of a legacy of French-Canadian folk tales being passed down generation after generation, all the way back to campfire tales. Jan thanked the students for becoming part of that tradition, and letting her share the stories with them.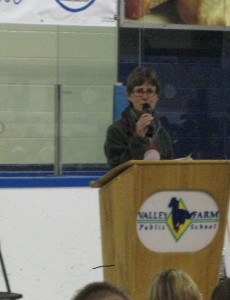 Kathy Stinson, whose book Highway of Heroes was nominated for the Silver Birch non-fiction award, said that it was an honour for her to be nominated, but that the real honours belong to the heroes and to their families, and to all those who stand on the bridges as they pass by in order to say, "Thank you for what you did to help make the world a better place." She was happy to attend the Whitby event because, as she said, Whitby is located right along the Highway of Heroes. Some of the people in the room might have been among those standing on the bridges.
Anna Kerz talked about where ideas come from. Sometimes they're big and ripe like a tomato, she said, and smack you in the head. Sometimes they're fine like a cobweb and you have to go looking for them. Writing Better Than Weird was a challenge for her, because she knew that in order to tell Aaron's story, she'd have to really understand him. And Aaron isn't the easiest kid in the world to understand. She asked the kids in the room to look for the "Aarons" of the world in their schools and in their classes, and to take the chance to get to know them, and learn their stories.
Better Than Weird was nominated for the Silver Birch fiction award.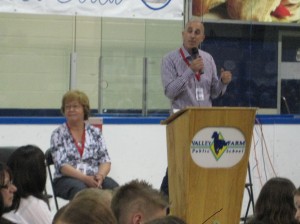 David Skuy, author of Silver Birch fiction award winner Undergrounders, said that he likes to write sports books — the kind of thing he liked to read when he was a kid. As much as Undergrounders is a story about a street kid, it's also a story about a hockey player. It can be tough to read about a homeless kid, but he's been impressed by the fact that his readers are kids who care about people who are having a hard time in life. And the most important thing about the Forest of Reading awards for him is that it's a celebration of reading. He told the students in the room that it wasn't about winning. Whichever book they liked best was the Silver Birch winner for them. That was their book.
It was a fun day for everyone there. Ms. Lauren Flattery had made a Silver Birch hat (visible in the first picture) out of some paper plates and a branch, with tissue-paper leaves and silver mirrors and a tiny red bird hiding in the leaves. It rivalled anything we saw on television from the royal wedding. There was a virtual choir, with kids from different schools singing Gordon Lightfoot's Canadian Railroad Trilogy together through video. There was cool music playing. I know it was cool because Sarah recognized the songs and I didn't. There was pizza and there was ice cream with those little wooden spoons that look like band-aids, and best of all, there was an arena full of kids all excited about books and reading.
It was a high-energy day. Kathy and Anna came back to my house afterwards for tea, and for me, that was the nicest part. It's great to see writers treated like rock stars, but let's face it, most of us aren't rock stars by nature. It's always lovely to have the chance to share and celebrate with other writers who are friends, though, and so I'm grateful that Sarah and I were given the chance to attend.
Any day that celebrates writing is a good day in my books. (Groan.)
Happy long weekend!