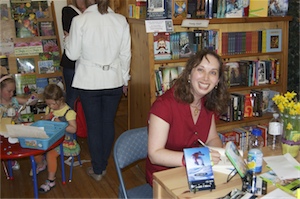 Yesterday was the book launch for Haze at Blue Heron Books in Uxbridge. It went wonderfully! Thank you so much, all those of you who came out and who sent good wishes. It means a lot.
Writer friends Susan Blakeney, Cheryl Rainfield and Lena Coakley were there even before the official start of the launch, which was lovely. Some of the morning's stress-knots untied themselves once there were friends to talk to. They were forgiving of the fact that I was stuffing my face with pizza as we hugged.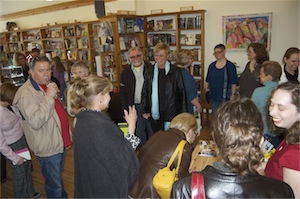 As 2:00 approached, people started to fill the store and then there wasn't time to be nervous anymore. It was all signing books, and visiting with people, and feeling overwhelmed and happy that so many familiar, friendly faces were there.
And then came the program part. After I had introduced the book and thanked some of the people who helped me bring it to life, some brilliant guest speakers took the stage.
Two teenaged competitive swimmers from the local swim team, Victoria and Cameron, did a great job of telling everyone about a day in the life of a swimmer. I think it was the 4:30-in-the-morning start time that got the most reaction. Victoria spoke about what the sport means to her and how it has helped her to grow as a person. They answered questions including one about what swimmers eat: "The same as you, except twice as much." They were well-spoken and professional, and their dedication to their sport came through.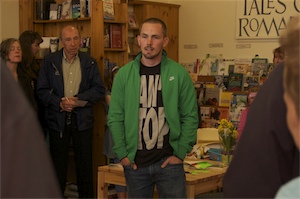 And then Scott Cannata spoke to the crowd. He's a remarkable young man I met through my daughter's school; he graduated from there years ago, and recently completed a run across Canada to raise money for cancer research. Scott and I have been in touch because I want to write a children's non-fiction book about his journey. I think a story like that needs to be shared with as many people as possible.
Anyhow, a book launch for a sports-themed book seemed like a good chance for him to tell his story and talk about active living; he recently founded an organization, Active Ambassadors, to promote activity in schools. Scott's a great speaker and an inspirational person, and my family and friends very much enjoyed hearing from him.
After Scott answered some questions from the crowd ("Why did you bring the dog along?" "She's my baby! Of course she had to come."), I read a brief piece from Haze. That was the end of the formal part — and then it was time to visit with family and friends, which is always the best bit.
I've heard good things from people who were there; it seems like everyone had fun. There was great food, including my husband's delicious banana bread and the awesome Haze cake my mom made — cherry chip, of course. We also had lots of wonderful door prizes, including books donated by Orca and by Shelley Macbeth of Blue Heron. Since it was Earth Day, we also had plants as prizes, and embroidered book bags that my mom made — those went over really well. The guest speakers were incredible, and the kids who attended seemed to enjoy the beading and colouring pages.
In honour of Earth Day, of course, the colouring pages were printed on the back of pages from a rough draft of my manuscript. (Sorry about the bottled water, Earth Day. I normally try to avoid it, but I just couldn't risk open drinks in a crowded bookstore.)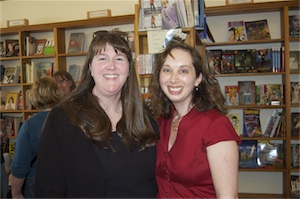 I was left feeling a little overwhelmed and very, very grateful. There was lots of family there, including some who drove all the way from Hamilton and Burlington. And lots of friends, even some who drove a long way to get there, and people from the local writing community, and some people I hadn't expected to see there at all — it was wonderful.
Thank you, Shelley, for hosting the event, and thank you to everyone who came out and helped to make the day a success!