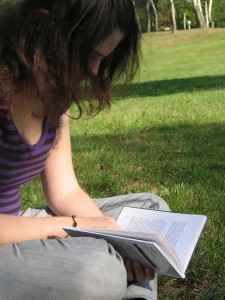 On Saturday, March 31, 2012, the Literacy Council of Durham Region will be holding its annual Coffee, Tea and Words read-a-thon event, at the Oshawa Public Library. I'll be reading from Haze at 7:15.
At least, I think it's 7:15. Better check that.
This is a fundraiser event. Participants raise money through sponsors, and then read for 15 minutes from a book of their choosing. It doesn't have to be one that you wrote. If you want to get involved and read from Peter Rabbit, you can! I'm reading from Haze because I need to test-drive it and see what sections work well. And because I think I found a good part that people might enjoy.
The money goes to a great cause–encouraging readers. I'll also be donating a copy of each of my books to the Durham Literacy library, because if books for reluctant readers don't belong at a literacy centre, I don't know where they belong. I hope they'll find a good home there.
Writers need readers. And readers need writers.
Another favourite writers-helping-readers event is the Muskoka Novel Marathon, which started ramping up again just last week. This year, the marathon will be held July 13-16, 2012, in Huntsville. It raises funds for the literacy program within YMCA Employment and Literacy (formerly the Muskoka Literacy Council, which is less of a mouthful).
Writers pay a fee to participate, which covers the costs of the marathon, and then they raise funds for the literacy program through sponsors. This is an amazing group of people. I love the energy of this event — thirty-ish writers all in one place, writing day and night over the course of three days to produce their novels. We've had insane word counts, up in the 50-60,000 range. My own totals are usually in the 20-30,000 range. But then, I sleep.
The best part, though, is the fun. Everyone supports everyone else, and after a couple of all-nighters, people get a bit wingy. I can't tell you too much about that; what happens at the novel marathon stays at the novel marathon. Except for the manuscripts–they can go anywhere. The winning manuscripts in each category (adult, YA and juvenile) are given feedback by publishing professionals, which is lovely, but I think for a lot of people the marathon isn't about winning. It's about setting your own finish line and reaching it. If you've never completed a novel before, this is your chance. If you just want to spend some quality time working intensely on a project, also your chance. And if you want to meet a bunch of good-hearted, slightly goofy, really wonderful people? Sign up.
I'll hope to see you there.