(And my first television appearance. But you have to read all the way to the end for that. Or just check out my new Videos page.)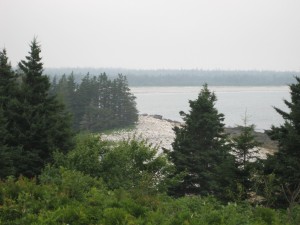 Sometimes a writer's just gotta get away from it all. We're not talking Walden here; I have something a lot cushier in mind. Something like the place I just got back from last night.
So if you're looking for a writing retreat, I now have two that I can recommend from personal experience. One just finished, but will be back in the fall (location TBA). One will take place next September in Nova Scotia, and is taking applications until the end of this month.
Here goes: a tale of two writing retreats.
Port Joli
We'll start with PJ, because if you're interested, you need to get your application ready right away. (More information can be found here.) Port Joli is located on the south shore of Nova Scotia, about two hours west of Halifax. It's beautiful. I've been twice now.
Peter Carver, children's editor with Red Deer Press, and well-known children's writer Kathy Stinson run this retreat/workshop. Needless to say, it's aimed at children's writers — although I can't imagine any sort of writer being unwelcome.
Writers (there are only six spots available) spend the week in Peter and Kathy's seaside home. Mornings are dedicated to quiet writing time. You can choose your writing spot in the house or in one of the outbuildings. I wrote in the fish house my first year, right down by the water. I thought that was the best location ever, but then I discovered the barn. There's also a neat little desk on the top floor of the house with a fabulous view of the ocean. You could write in your room if you wanted, but why?
Breakfast and lunch are serve-yourself, and after lunch there are group critique sessions, then participants are free to explore the property or write until dinner. Dinners are catered and are seriously yummy. You'll also have a one-on-one feedback session with Peter or Kathy. No page limit on this one; you can send your whole novel.
Evenings are spent together, talking about writing or having fun. Peter will insist on playing book-title charades once. Best to humour him. Just try to come up with something really good ahead of time to stump him with. (Apparently "Gooney Bird Greene" got some serious mileage one year.)
You can expect quite writing and relaxing time, lots of inspiration, new writer friends, valuable feedback, and so much useful information on writing that it'll take you the rest of the year to digest it all. Depending on how you balance yummy food with long walks on the beach, you may also expect to come home a wee bit lighter or heavier.
Must love dogs. But if you think you don't, Keisha will convince you otherwise.
Writescape
I just came back from the Writescape "Spring Thaw" session. This time, it was held at the wonderful Elmhirst's Resort in Keene, Ontario. Writers lived two or three to a cottage, so we each had our own private bedroom to work in. Mine had a view of Rice Lake!
Writescape is an unusual sort of writing retreat in that it moves from place to place. It's run by Ruth Walker and Gwynn Scheltema, both of whom are excellent writers and experienced workshop facilitators. (They're also good friends of mine and in my writing group, but I'd say that even if they weren't.) You can find more information on the Writescape Retreats here.
At a Writescape retreat, Ruth and Gwynn offer optional workshops if you need some help getting started with your writing. You're also welcome to choose private work time instead. They have an "inspiration station" — a table full of strange and wonderful objects to help inspire your writing. Scrabble tiles, a wooden lizard, mysterious boxes, even Easter eggs with words inside them.
Writescape balances working time with the opportunity to connect to your fellow writers. Friday night, I felt a bit worried, looking around the room and seeing mostly strangers. By Sunday, I was sad to see them go. About a dozen of us chose the "extend your pen" option, which meant staying through Monday and Tuesday as well — bonus writing time. I especially enjoyed that part, since it was a smaller group and more focused writing time.
I'm not sure where the Fall Retreat will be this year. Gwynn and Ruth haven't made the details public yet. But save the last weekend in October, and I'll post the information here when it's available!
Check out this CHEX Newswatch segment for more information on Writescape. It's from last Monday morning — you'll see me in some of the group shots. I also have a one-on-one discussion with the anchorwoman about reluctant reader books later in the show, which I'm hoping eventually to post on its own.