Okay, so as previously mentioned, I'm part of Marthe Jocelyne's blog tour for her new book, Scribbling Women.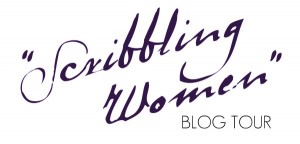 I received my copy of the book in the mail a while ago. My first Advance Copy! Well, of a book that's not mine, anyhow. (The book is due for release March 22, I believe.)
Being part of the blog tour means that I get to post a review of the book before the book is even out. Yay!!! It also means that on Wednesday, March 30, I'll be posting… well, something. That's my blog tour date. It's a surprise, largely because I haven't decided yet what I'm going to post on that day.
But it'll be cool.
And even if it isn't, you want to be here and to comment, because Tundra Books is hosting a huge book giveaway. One complete set of books by Marthe Jocelyne–that's 28 books, ranging in age from toddler books to YA novels. Take a look!
You can, in fact, leave a comment on each of the 30 participating blogs for 30 chances to win. And as soon as I can figure out how to upload a PDF to this website, I'll have the list of participating blogs here for you.
In the meantime: my book review.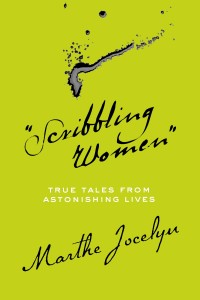 Scribbling Women is a collection of stories. Stories of women who left behind their words. Their diaries, their letters, sometimes their fiction. These women give us glimpses into their worlds — worlds that are fascinating, and for the most part, worlds I knew nothing about.
In her foreword, Marthe tells us that when she was researching for this book, she found information on thousands of women who left their words behind. Thousands. This book tells the stories of eleven. So how did she choose? She narrowed her list to "those whose stories made me catch my breath."
We start with Sei Shonagon. Her real name is unknown; Sei would have been her family name, Marthe tells us, while "shonagon" meant "junior counsellor." That was probably the job of one of her male relatives. So her name has been lost, but her words have not. She left behind a collection of snippets written while she was at court. Thoughts. Poems. Observations. She was born more than one thousand years ago, but many of her "lists" (like poems in themselves) still ring true.
Things that Pass by Rapidly
A boat with its sail up.
People's age.
Spring. Summer. Autumn. Winter.
From Sei, we move to Margaret Catchpole, who was sent to prison for stealing a horse. And from there, she was sent to Australia: Transported for Life. She left in 1801. Her letters give us a glimpse into a world that's as far removed in time as it is in distance.
The next entry, Mary Hayden Russel, seems confident and sure of herself, despite travelling on a whaling ship in a time when women on board a ship were generally considered bad luck. And the next story, Harriet Ann Jacobs' story, is perhaps the most horrifying. She spent years living in a tiny, cramped space as a runaway slave, watching the world through a peephole.
Mary Henrietta Kingsley was one of my favourites. She's a Victorian lady with the mind and heart of a scientist. Her writing is deliciously descriptive. "The first day in the forest we came across a snake — a beauty with a new red-brown and yellow-patterned velvety skin, about three feet six inches long and as thick as a man's thigh….We had the snake for supper, that is to say the Fan and I; the others would not touch it, although a good snake, properly cooked, is one of the beat meats one gets out here, far and away better than the African fowl."
Nellie Bly amazed me, too, with the things that she endured for the sake of investigative journalism. She wanted to tell the stories that mattered, from the point of view of those who were living them. She was driven to share the truth.
The same could be said of each of these women, each in her own way. Ada Blackjack wrote from an island north of Siberia. She wrote her story by hand in halting English, only using the typewriter left behind by one of her party to report the death of the man who had been her last companion.
Dang Thuy Tram was a doctor in North Vietnam. Her diary, when found by a Vietnamese Sergeant, prompted him to tell his American friend not to burn it: "There is fire in it already."
And Doris Pilkington's account of her mother's escape from a government-run Native Settlement and back to her family is heartrending.
Marthe does a wonderful job of using her own words, with selections from the women's writing, to tell their stories. Her writing is transparent. Through it, we get to see what she saw, in reading the original sources.
If there's a weak spot in the book, it's the short linking paragraphs used to connect the women's stories together. The transitions and connections often feel forced. She compares how long two women waited for replies, for example. And yet, I would not like to see the book without them. These connections, as forced as they might seem at times, help create a thread between the stories. They drive home the point that these women all had something in common.
At whatever time, for whatever reason, each picked up a pen to express herself. Each left behind something of her own remarkable story.  And each, in her own way, knew the value of words.
Marthe's Jocelyn's book, Scribbling Women, will take you on a journey through a range of places and times. I've heard it said that the drive to write is the drive to make worlds come alive. If that's the case, Marthe Jocelyne, along with each of the women she writes about, feels that drive.