On Sunday, March 28, somewhere between 10:00 and 10:30 a.m., I'll be reading a short selection from my new YA novel, Boarder Patrol, at Isabella's Chocolate Café in Oshawa.
The reading is part of the second annual Coffee, Tea & Words 24-Hour Read-a-Thon, a fundraiser for the Literacy Council of Durham. I'm part of a group of readers from the Writers' Circle of Durham Region; we'll be reading for five minutes each. Other WCDR readers are Sue Reynolds, James Dewar, Carin Makuz, Dorothea Helms and Ruth Walker. I know these people and they're all extremely talented writers–and good at reading in public, too! It promises to be a great show, with lots of interesting work shared.
Plus, it's at a Chocolate Café. Yes, Chocolate. In case anyone is wondering about my willingness to read aloud. I will do many, many things for access to chocolate. I think the good cause is influencing people, too–Susanna Kearsley and Jill Edmondson will also be participating, at different points in the Read-a-Thon. This should be a great fundraiser for Durham Literacy.
(Incidentally, because the lovely Sue Reynolds fixed up my Boarder Patrol ARC picture, I'll post it here rather than just linking to it. Just because I can. Thanks, Sue!)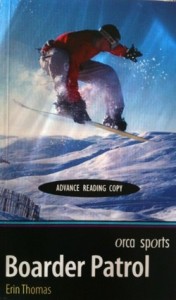 Book Launch Date Set
On the topic of Boarder Patrol, I've finally set the date for the book launch. It will be held on Saturday, May 29, 2010, at Blue Heron Books in Uxbridge. I'm not sure of the exact time yet, but probably sometime during the early afternoon–starting at 1:00 or 2:00 or so. There will be cake. There will be door prizes. There will be nice people there, and an absolutely gorgeous bookshop to browse. It should be fun!
And look! Here's the book on Orca's web site. This makes it feel real!
Book Giveaway Contest!
Becky Levine (@Becky_Levine on Twitter) is hosting a book giveaway contest. All you have to do is leave a comment on her book review page, and you'll be entered in a draw to win a copy of Shiver by Maggie Stiefvater. I've heard a lot of good things about this book… enough so that I probably shouldn't tell anyone about this contest, because I'm hoping to win the draw. However, I can't quite bring myself to be that mean. Here it is: Becky Levine's review of Shiver.