Novels
Forcing the Ace (Orca Limelights, 2014)
Alex wants to enter the Silver Stage magic competition, but he needs a sponsor. Jack, a veteran card wizard, is willing to take on the role, but only if Alex agrees to team up with Zoe, another young magician–and Alex's rival. Working with Jack and sharing the spotlight with Zoe, Alex comes to see that there are other ways to be a magician besides competing–and that magic is about entertaining people, not fooling them.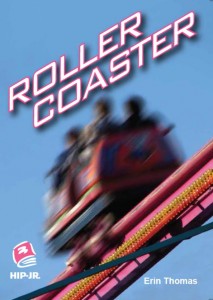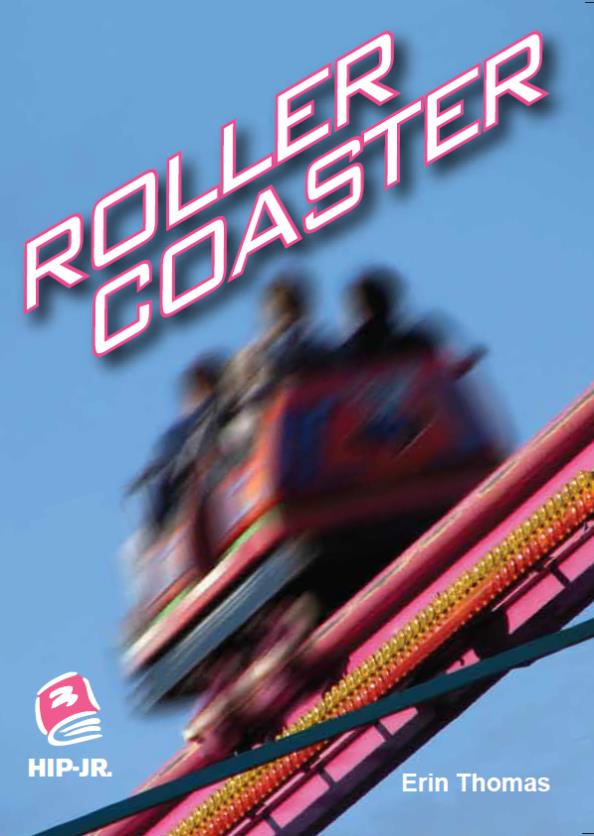 Roller Coaster (HIP Books, Fall 2013)
Someone is stealing from the local amusement park. Emma's dad has been blamed, but she knows he didn't do it. To solve the case, Emma and her brother Justin sneak into the park after hours for an adventure-filled night that includes unexpected hiding places, a wild ride on the roller coaster, and danger that neither of them bargained for.
Reading this mystery novel is like riding a roller coaster — a short trip with lots of laughs and excitement.
The wooden bars wiggled as I crawled up them. As I got higher, the wind got worse. It had barely been windy at all, on the ground.
I looked down. Bad idea. …
Three quarters of the way up, my teeth were chattering in the wind. My fingers felt numb. This was high enough, maybe. I could see most of the park from here. It wads dark out, but the lights all around the main path were on. 
I gripped the rails with my arms and legs, and then I slid my backpack off. I dug inside it with one hand, looking for my binoculars. There. i pulled them out and looped the cord over my neck.
Then I saw someone moving.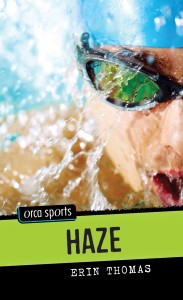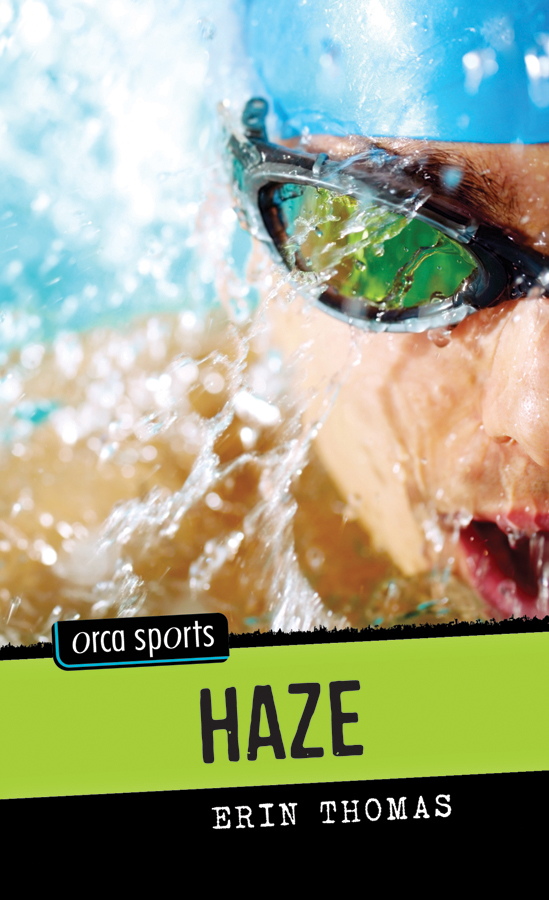 Haze (Orca Sports, Spring 2012)
A Canadian Children's Book Centre "Best Books for Kids & Teens 2012" selection.
A Resource Links Magazine's "Year's Best 2012" selection.
Bram is hunting down the secret that almost killed his friend.
Bram's friend Jeremy wants to go public with information about a hazing-related student death. The morning after he tells Bram this, he's injured in a hit-and-run accident. Now Jeremy is in a coma, and Bram and Abby are trying to follow the trail that he left. Abby is convinced Bram's swimming coach is to blame. Bram knows Coach is innocent, but can he prove it? And what will happen if he's wrong?
There's a moment, before you dive into the pool. Your body is ready. You're in position, ready to dive. But there's a split second, when the starting gun sounds, when you could dive or not. A good swimmer trains past that point, so it's not a conscious thing, diving into the water. It's instinct.
I had no instinct for diving into a door.
I aimed, stretched my left arm out, made a fist and jumped.
Orca's sports books are geared towards reluctant readers and feature athletics mixed with adventure.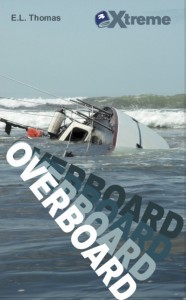 Overboard (HIP Books, Spring 2012)
A Canadian Children's Book Centre's "Best Books for Kids & Teens 2012" selection.
Three teens in a lifeboat. One's hurt. One's selfish. One's angry. Can they survive?
Sailing to the Bahamas should have been easy, but an engine fire changes all that. Suddenly Tanner and his kid sister are stuck in a lifeboat with a teenage kid who's been nothing but trouble. Tanner is exhausted, his sister is injured and the kid is acting like a jerk. Things are bad — and then the storm hits!
I screamed and threw the tiny paddle out to sea. Then I panicked and tried to reach it. 
"Moron!" Cory grabbed me by the shoulders and pulled me back to the center of the raft. "What did you do that for?"
"My Dad's on that boat," I said. I felt like someone had punched a hole in me and let all the air out. My voice was small and my eyes burned. 
"And there's nothing we can do about it," Cory said.
I shook him off and knelt in the middle of the raft. The Sparta was a speck now, a small speck on a big ocean. I stared and stared. As long as I kept her in sight, Dad and I were connected.
But I was too weak. I blinked.
The Sparta disappeared.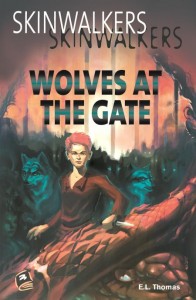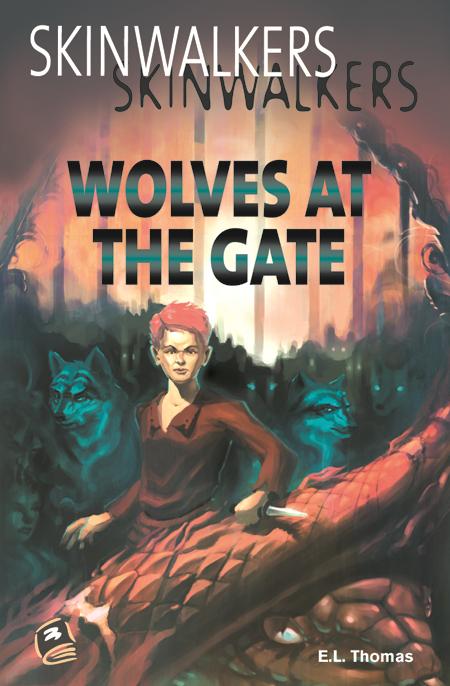 Wolves at the Gate (HIP Books Spring 2011)
Wolves at the Gate is part of a new fantasy series of connected stand-alones for reluctant readers, published by HIP Books. Other books in the series include Legend of the Ring by Deb Ouellet and Walking Both Sides by Cheryl Rainfield. The books in the Skinwalkers series share a common world but can be read individually.
In Wolves at the gate, a young pickpocket, Ren, ends up imprisoned with a Skinwalker and fears he'll be eaten alive. Instead, the Skinwalker invites Ren to escape and join his clan in the woods. Ren takes the offer, but soon finds himself in a plot to kill the king — a plot that quickly leads to disaster.
The boy smiled. In the dim light of the cell, his teeth looked pointed. "I'm Connor," he said. He held out his hand as if to offer a handshake.
Ren reached for it, but where there should have been a hand, there was a wolf's paw.
Ren scrambled back. The cell was too small. He was trapped.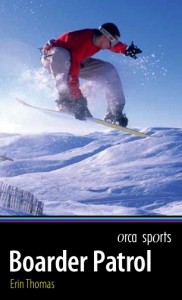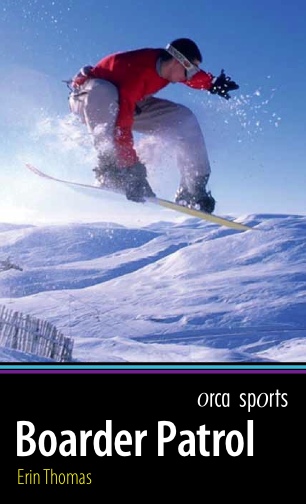 Boarder Patrol (Orca Sports Spring 2010).
A Canadian Children's Book Centre's "Best Books for Kids & Teens 2011" selection.
Sixteen-year-old Ryan is determined to be a professional snowboarder, but he's learned from what happened to his father that doing the right thing can get you in trouble. So when his board is stolen, and he discovers that his cousin knows more than he should about recent criminal activity at the ski resort, Ryan has to choose between career and family, and hope that, for him, doing the right thing will pay off.
I was in the trees and three turns down before I noticed that something was wrong. My bindings were loose on the board. They rattled when I turned.
I struggled for control, but I was going too fast. My board shot free. It hurtled down the hill without me. I hit the snow hard and flipped, my bindings still attached to my boots. It hurt.
I tucked and rolled. I was still in the trees. Bad place to fall.
Orca's sports books are geared towards reluctant readers and feature athletics mixed with adventure.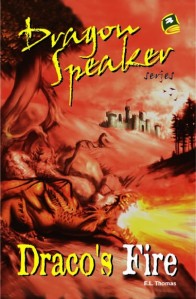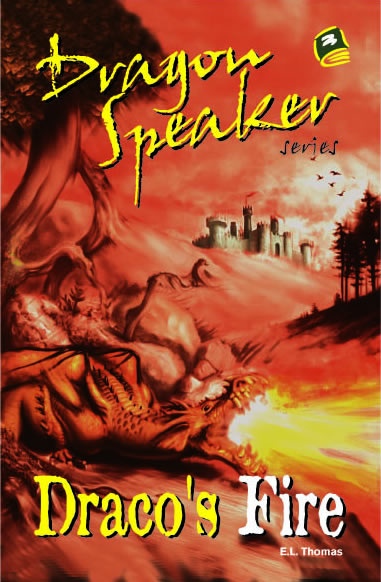 Draco's Fire (HIP Books Fall 2009)
Draco's Fire is the third book in the Dragon Speaker trilogy, published by HIP Books. These book are a reluctant reader's introduction to the world of high fantasy.
Book One: The Last Dragon, by Cheryl Rainfield begins Jacob's journey when he discovers that his ability to mind-speak with birds makes him the 'chosen one' of prophecy.
Book Two: A Hero's Worth, by Deborah Ouellet continues Jacob's growth as a hero as he, his dragon and his friends must save Lia, an elf, from a forced marriage to evil Lord Manning.
Book Three: Draco's Fire, by Erin Thomas brings Jacob's story to a conclusion as he and his dragon work together to save their friends and finally defeat Lord Manning.
To fulfil the prophecy, Jacob must bring together two parts of the comet stone. Jacob expects his friend Orson to help, but Orson betrays him. Soon Lord Manning has both Orson and Lia under his control. On his side, Jacob has only his own courage and Draco, the fully grown dragon. But the comet returns, and magic can sometimes work miracles. Draco's Fire is a spectacular finish to the Dragon Speaker trilogy.
Jacob stared in horror as Orson galloped closer. "Stop!" Jacob shouted.
Orson didn't even blink, just kept coming. Jacob leaped out of the way, but Orson's father stood there, gaping at his son. His lips shaped Orson's name.
Jacob tackled the large man, knocking him to the side of the dirt road. The horse thundered by, inches away.