By Erin Thomas | April 23, 2012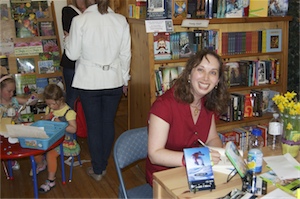 Yesterday was the book launch for Haze at Blue Heron Books in Uxbridge. It went wonderfully! Thank you so much, all those of you who came out and who sent good wishes. It means a lot.
Writer friends Susan Blakeney, Cheryl Rainfield and Lena Coakley were there even before the official start of the launch, which was lovely. Some of the morning's stress-knots untied themselves once there were friends to talk to. They were forgiving of the fact that I was stuffing my face with pizza as we hugged.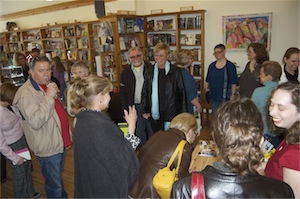 As 2:00 approached, people started to fill the store and then there wasn't time to be nervous anymore. It was all signing books, and visiting with people, and feeling overwhelmed and happy that so many familiar, friendly faces were there.
And then came the program part. After I had introduced the book and thanked some of the people who helped me bring it to life, some brilliant guest speakers took the stage.
Two teenaged competitive swimmers from the local swim team, Victoria and Cameron, did a great job of telling everyone about a day in the life of a swimmer. I think it was the 4:30-in-the-morning start time that got the most reaction. Victoria spoke about what the sport means to her and how it has helped her to grow as a person. They answered questions including one about what swimmers eat: "The same as you, except twice as much." They were well-spoken and professional, and their dedication to their sport came through.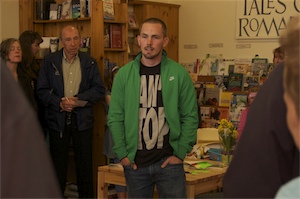 And then Scott Cannata spoke to the crowd. He's a remarkable young man I met through my daughter's school; he graduated from there years ago, and recently completed a run across Canada to raise money for cancer research. Scott and I have been in touch because I want to write a children's non-fiction book about his journey. I think a story like that needs to be shared with as many people as possible.
Anyhow, a book launch for a sports-themed book seemed like a good chance for him to tell his story and talk about active living; he recently founded an organization, Active Ambassadors, to promote activity in schools. Scott's a great speaker and an inspirational person, and my family and friends very much enjoyed hearing from him.
After Scott answered some questions from the crowd ("Why did you bring the dog along?" "She's my baby! Of course she had to come."), I read a brief piece from Haze. That was the end of the formal part — and then it was time to visit with family and friends, which is always the best bit.
I've heard good things from people who were there; it seems like everyone had fun. There was great food, including my husband's delicious banana bread and the awesome Haze cake my mom made — cherry chip, of course. We also had lots of wonderful door prizes, including books donated by Orca and by Shelley Macbeth of Blue Heron. Since it was Earth Day, we also had plants as prizes, and embroidered book bags that my mom made — those went over really well. The guest speakers were incredible, and the kids who attended seemed to enjoy the beading and colouring pages.
In honour of Earth Day, of course, the colouring pages were printed on the back of pages from a rough draft of my manuscript. (Sorry about the bottled water, Earth Day. I normally try to avoid it, but I just couldn't risk open drinks in a crowded bookstore.)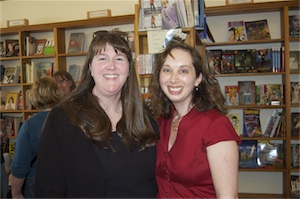 I was left feeling a little overwhelmed and very, very grateful. There was lots of family there, including some who drove all the way from Hamilton and Burlington. And lots of friends, even some who drove a long way to get there, and people from the local writing community, and some people I hadn't expected to see there at all — it was wonderful.
Thank you, Shelley, for hosting the event, and thank you to everyone who came out and helped to make the day a success!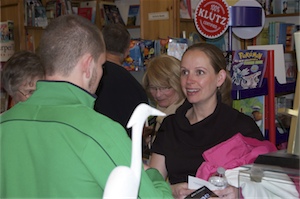 Topics: Writing | 2 Comments »
By Erin Thomas | April 20, 2012
Aside: Book launch is this Sunday! Exciting!

I hope some of you will be able to make it. There will be yummy banana bread.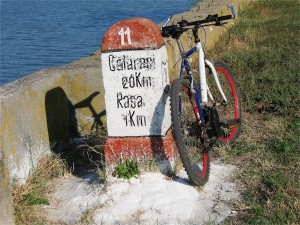 I passed what feels like a major milestone this past weekend — I finished my current draft of Tyler's Intergalactic Spy School. The story was born three years ago, at the Muskoka Novel Marathon. That original story has changed a lot, but the heart of it is still the same. Anyhow, poor Tyler has been wandering around, ending-less, for about two years now while I tried to sort through all the feedback and story possibilities and tried on various beginnings to see what fit.
Enough was enough. I was going to get to the end. Even if it wasn't perfect, it would be something to work with. It would be a complete manuscript again, not bits and pieces and maybe-nots.
My friend Jocelyne Stone and I headed up to my parents' cottage for a long weekend of heads-down writing. It's obvious that Jocelyne's a true writer, because when I mentioned that there would be no running water and that the cottage can be a bit of an unknown at this time of year (some years mousies move in over the winter, some years they don't), she didn't even blink. Time away from life? Time to just write? She was in. The mice were welcome to keep us company, so long as they didn't mind the lack of showers on our part, and so long as they didn't interrupt.
We stocked up on some basic groceries (beans-on-toast, obligatory veggies, lots of chocolate) and reached the cottage around dinner time Friday. The good news? No sign of mice in the cottage. The bad? A dead mouse in the garage, inside the only bucket I could find that was large enough to use to carry the water for flushing the toilet.
The mouse was quite dead. Indisputably dead. And there had been water or oil or something nasty in the  bucket in the first place. I'm no pathologist, but I suspect it contributed to the poor mouse's demise.
I buried the mouse, put a rock over the site, and cleaned the bucket. Believe me, you don't want the details.
In the meantime, lovely Jocelyne had been moving us in and unpacking the foodstuffs. I brought water from the lake and scrubbed my hands raw. We plugged in the fridge, started some water to boil, and got organized. And then, while there was still some light in the sky, I went to check the outhouse.
The first trip to the outhouse is always the source of some trepidation. As with the cottage, you never know what has moved in over the winter. For me, the worst-case scenario would probably be a snake. We were spared that, but there were a couple of Godzilla-sized dock spiders in the… you know. The business part of the outhouse.
Now, there is spider spray in the outhouse for just such occasions, but I couldn't bring myself to inflict chemical death on them. Especially after what happened to poor mousie. I swept the outhouse, looked in on the spiders a couple of times just in case I had imagined them (no luck), and headed back to make my report. Crouching, Jocelyne and I decided, was the better part of valour.
Moving-in and housekeeping duties complete, we set down to work. And that was when I made the nastiest discovery of all… I had forgotten my power cord. My PowerBook has pretty decent battery life for a trip to the coffee shop, but four or five hours wasn't going to do much for a weekend of intensive writing.
Oops.
Four-hour return trip home? Not realistic. Writing by hand? Intriguing, but probably not as productive as I wanted. Besides, I hadn't brought all that much paper. Meeting husband and daughter halfway for a quick power cord hand-off? Not a good use of time or gas, either.
Fortunately, I have a techie-romantic for a husband. He likes to demonstrate his affection, on such occasions as Christmas and birthdays, with gifts that involve electronics. A back-up drive saved seemed like a weird Valentine's Day present one year early in our marriage, but it saved my life a few weeks later when my hard drive died. Since then, I have never questioned his penchant for technology instead of roses.  I'm not really a roses kind of girl, anyhow.
When it comes to things technological, I am spoiled rotten. This year's Christmas gift was a bluetooth keyboard, to use with my iPad (you guessed it–anniversary present, a few years back). I nearly always carry them with me. And the iPad's charger, unlike the computer's power cord, was in my bag. Solution!
Sadly, my pet writing software, Scrivener, is not yet available for iPad. That meant I couldn't edit old material, but in a way, this was the best thing that could have happened. I had to write new scenes, since I couldn't get to the old ones. So Friday night I played with my index cards and plotted out an ending, and Saturday and Sunday I wrote. And wrote. By the end of the first day, of course, my index cards were wrong, and I had a crisis-of-scene on Sunday that required a long walk around the lake (Jocelyne was kind enough to come along and poke holes in my plot), but by Sunday night, I was typing "the end."
It's nothing close to done, of course, but now I know the shape of the story, and that's a shift. It's a different kind of work now; it's sleeves-up editing, which will start with the big-picture stuff and then ripple through finer and finer until I get down to the scene and line level.
I'm looking forward to it.
Sometimes getting away is the best thing you can do. It means time with your head in the story, focused, nothing else going on. Jocelyne and I both finished drafts of the projects we were working on — that's a great feeling. And if you can manage a packing screw-up that forces you to work on new material rather than old, that can be a perk, too. (Jocelyne, apparently, didn't need to resort to this. She's working at a more advanced level.)
And, of course, we went swimming in the icy April water. Here is a picture of the lake the morning we went in. I'm not including the pictures of us in our bathing suits, because it's not that kind of blog. Also, by then my hands were shaking.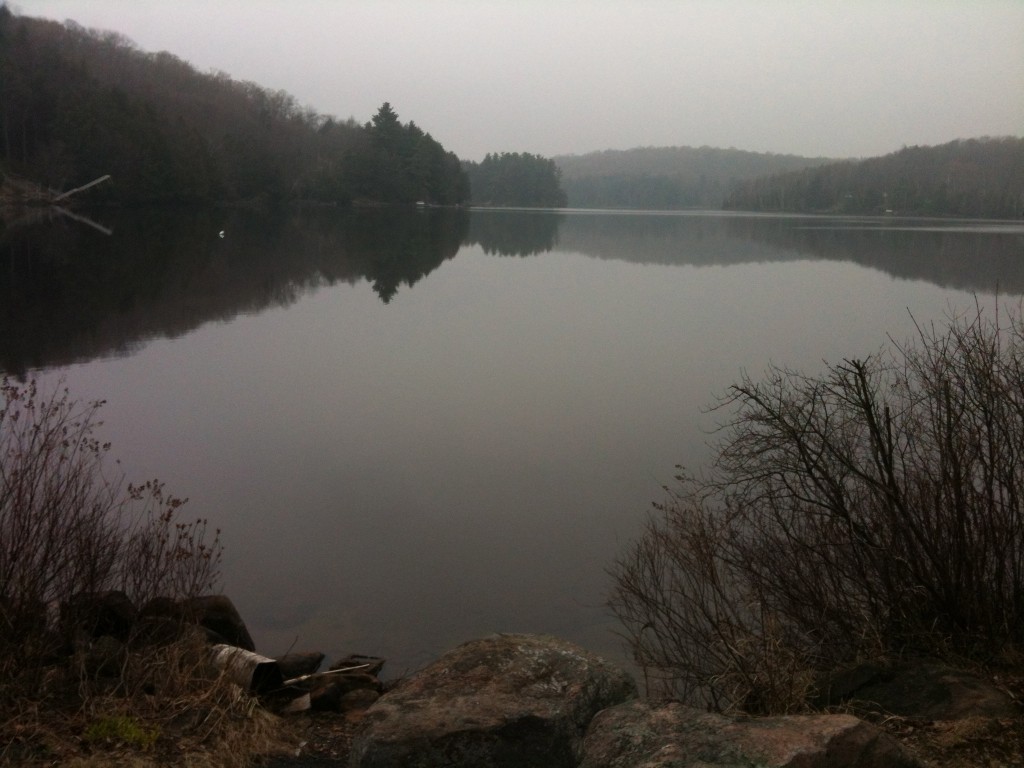 We are both going to apply to Peter Carver and Kathy Stinson's seaside writing retreat this summer. I don't know if we'll get in, but we're crossing our fingers. I'm hoping for Jocelyne more than for me, and for my friend Heather who's also applying, because I've gone before, twice. It's an incredible experience. Sometimes the best type of getting away to focus on your writing is when other people are doing the same thing, right along with you.
And besides, Peter and Kathy have running water.
Topics: Writing | 12 Comments »
By Erin Thomas | April 11, 2012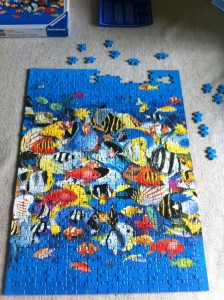 Remember that puzzle from last week's blog post? Here's what it looked like this morning. Actually, it looked a lot worse than this at one point. Like Jaws took a bite out of the top.
Lots more has been filled in, yes. But then I hit the hard part, all that plain blue near the top. And the pieces weren't fitting. I had to go back and tear out some stuff that I thought was done — the frame. And believe me, when you think you're that close to done, the last thing you want to do is go taking apart stuff you thought you had finished with ages ago. But sometimes you have to, in order to make it better.
The parallel to writing here is obvious. It's a lot easier to work scene by scene, or line by line, and find the small changes that need to be made. And that will make the story better, yes, but maybe not as good as it could be.
I'm overhauling (editing isn't a strong enough word) a juvenile novel that I've been working on for a couple of years. My cousin saw an early draft, since it borrows from a place that was important to us as kids. She liked it very much, and wants to know when that book will come out.
I doubt she'd recognize much of the current version. There are new characters. Some old characters are gone. Some play vastly different roles now, and much of the premise of the story has changed.
And yet, it's closer to the story I wanted to write in the first place. The facts in the story might have changed, but I'm getting closer to what I wanted to say. In Darcy Pattison's book on editing, Novel Metamorphosis, she suggests writing down the one thing that the story is about for you — the one thing that can't change. And then you have to accept that nearly everything else is up for grabs.
I'm okay with that.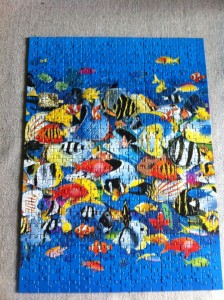 I hope it's better. There were parts of the early drafts that just didn't hang together, and I never did come up with an ending that felt right. If the roof won't fit, sometimes you need to look at the foundation. (That may or may not be true; I don't know that much about building houses. But bear with me anyhow.) So now I'm happier with the general structure of the story… I can see where it all needs to go, and its leading to a better ending than any of the previous versions have had. But in many ways, I've started from scratch. Some of those nice scenes that I edited and polished? Gone. I'm back to rough draft stage in a lot of places. Most of the book, in fact.
That's all right. I'm willing to build it again from the ground up, to get it closer to where it needs to be. And I think I've learned enough about writing over the past three years that the new scenes, even in their rough form, read better than the old ones did.
It might have looked closer to "done" before, but when I got to that top row, the hard part, the pieces just weren't fitting.
This time, I hope more of them will.
* * *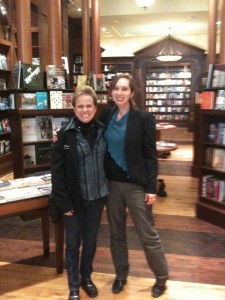 This week, I was going to blog about another bookstore-visiting trip. My friend Susan Blakeney helped me navigate the TTC to three more bookstores. But she has already blogged about it here, and I don't have that much to add, really. (Except for one small correction —  I was pretty happy when we were given a referral from the first Type Books location. To my way of thinking, that's a good outcome and something to follow up on. My reaction may have been slightly overridden by the how-the-heck-do-you-use-a-streetcar nerves, though, so I can understand why she thought that.)
Anyhow, for those of you who read to the end, here's a picture of Sue and I on our day out.
Topics: Writing | 2 Comments »
By Erin Thomas | April 2, 2012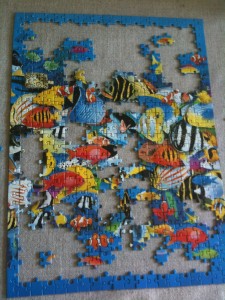 This is what my dining room table looks like. Well, part of it. I'm not posting a picture of the whole thing with the papers on one end and little puzzle pieces everywhere, just in case my mother-in-law checks this blog. (Not that the mess would come as any great shock to her.)
Today was a beautiful, bright, sunny day. And my daughter was in school after a busy weekend. It would have been a great day to dive right into work, or at the very least take the dog for a walk and enjoy the weather. So of course, I got drawn into puzzle-land.
Puzzle-land is interesting. Sometimes you look at the pieces with a sort of soft focus, and the right one just seems to jump into your hand. And you place it without hesitation, only half aware that of why it belongs where it does. It just fits, that's all, and your fingers knew it would without even consulting your conscious brain.
Sometimes you get all analytical. You think, "I need a horizontal piece, and it has to have a bit of yellow in the corner." And you scan the unused pieces one by one, and maybe sort them into like colour groupings, until you find that bit of yellow.
I like the soft focus times best. That's when it feels like magic.
It happens with writing, too. Sometimes you just wake up knowing something about a character — not something you had wondered about, particularly, but something that will add. Something important and irrevocable.
Or sometimes you're folding laundry when the great Story Gods draw a lightbulb over your head and suddenly you see how the plot needs to unfold. Gotta love those Story Gods, especially when they're feeling generous.
But sometimes they're not. Sometimes you have to sit back and stare at your manuscript and look for that piece with the bit of yellow on the corner. It's not as magical, piecing things together that way, but it works. And that's okay. You're piecing the story together, and however you need to get there, you will. You can fix it later.
Those soft focus moments don't usually come when I'm staring at the screen. They come when I'm doing something else. Walking is good. Highway driving's even better, because then there's no easy way to get the idea down before it escapes, and the Story Gods think that's funny. There are ways to trick them, though. I say the idea aloud — that helps, even without a tape recorder. Or I switch my watch from my left wrist to my right, and that reminds me that there's something I want to remember, and that usually does the trick.
(Or if my daughter's in the car, I tell her, and she asks why. And then I have to try to explain it and justify it. And she convinces me that it wasn't much of an idea after all, just by the quality of her silence. An eight-year-old is capable of very communicative silences.
Sometimes it's better if my daughter isn't in the car.)
However you work your way into them, the soft-focus times when the ideas flow easily and snap into place are wonderful. Cherish them. The ideas that come that way… let's just say they tend to have a higher success rates than the ones I scramble for.
They fit. And the story picture starts to form.
Topics: Writing | 2 Comments »
By Erin Thomas | March 29, 2012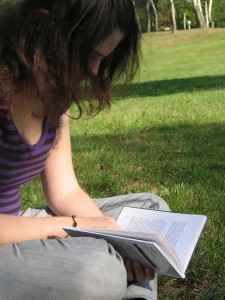 On Saturday, March 31, 2012, the Literacy Council of Durham Region will be holding its annual Coffee, Tea and Words read-a-thon event, at the Oshawa Public Library. I'll be reading from Haze at 7:15.
At least, I think it's 7:15. Better check that.
This is a fundraiser event. Participants raise money through sponsors, and then read for 15 minutes from a book of their choosing. It doesn't have to be one that you wrote. If you want to get involved and read from Peter Rabbit, you can! I'm reading from Haze because I need to test-drive it and see what sections work well. And because I think I found a good part that people might enjoy.
The money goes to a great cause–encouraging readers. I'll also be donating a copy of each of my books to the Durham Literacy library, because if books for reluctant readers don't belong at a literacy centre, I don't know where they belong. I hope they'll find a good home there.
Writers need readers. And readers need writers.
Another favourite writers-helping-readers event is the Muskoka Novel Marathon, which started ramping up again just last week. This year, the marathon will be held July 13-16, 2012, in Huntsville. It raises funds for the literacy program within YMCA Employment and Literacy (formerly the Muskoka Literacy Council, which is less of a mouthful).
Writers pay a fee to participate, which covers the costs of the marathon, and then they raise funds for the literacy program through sponsors. This is an amazing group of people. I love the energy of this event — thirty-ish writers all in one place, writing day and night over the course of three days to produce their novels. We've had insane word counts, up in the 50-60,000 range. My own totals are usually in the 20-30,000 range. But then, I sleep.
The best part, though, is the fun. Everyone supports everyone else, and after a couple of all-nighters, people get a bit wingy. I can't tell you too much about that; what happens at the novel marathon stays at the novel marathon. Except for the manuscripts–they can go anywhere. The winning manuscripts in each category (adult, YA and juvenile) are given feedback by publishing professionals, which is lovely, but I think for a lot of people the marathon isn't about winning. It's about setting your own finish line and reaching it. If you've never completed a novel before, this is your chance. If you just want to spend some quality time working intensely on a project, also your chance. And if you want to meet a bunch of good-hearted, slightly goofy, really wonderful people? Sign up.
I'll hope to see you there.
Topics: Writing | 3 Comments »
By Erin Thomas | March 27, 2012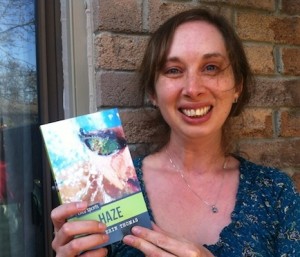 Last night when I got home from a very busy day, there was a package waiting for me. And inside were… books!!!
It's always an exciting day when the book that you worked on so hard, and probably last saw in manuscript form several months ago, is suddenly real. A real live book! Right there, in your hands! It can be a bit nerve-wracking, too. Because now it's really, really too late to make any last-minute changes.
Nevertheless, Haze is a real book now, and I have copies! And it looks great — Orca has redone the look of their Sports series covers, so it's very schmancy and, well, sporty. Bigger picture and brighter colours than on my ARC. More exciting.
Exciting like all my adventures on yesterday's road trip. What road trip, you ask? Well, the one that has me attempting to visit-in-person as many local bookstores as possible in order to offer free workshops, which is my current plan for promoting Haze.
You see, I'm not a well-known author. I'm a writer still in the early baby steps of a career. I'm not even remotely close to famous, except maybe to my mom. (Hi Mom.) So if I were to offer a reading or a book signing at a book signing, well, I'm afraid the biggest reaction I could reasonably hope for would be a collective shrug. And I'm okay with that, but it does make the whole promotion thing difficult.
Hence the free workshops idea. I'm going to see which bookstores would like to host one. The strategy here is that, after attending a workshop, some people might like to stick around and buy a copy of one of my books and get it signed. Some, probably not all. And again, that's okay. Workshops are kind of fun, anyhow — who doesn't like to talk about writing with like-minded folks?
The other side benefit is that I'm meeting more booksellers in the process. Booksellers are wonderful people to know. They can recommend books to you for fun reading or for research; they sometimes need authors for different events in-store; they'll even carry your book, if it's right for them.
My local bookseller is Shelley Macbeth at Blue Heron Books, and she's wonderful. I'm afraid I wasn't subtle when I introduced myself to her — I think I sent her an email asking about hosting a launch, and saying that I'd heard it was a good idea to get to know one's local bookseller. She wrote back saying, yes, it is a good idea, come talk to me. When I did she proceeded to walk me through planning my first solo book launch. Which went very well.
So yes, Shelley is my angel, but I'm enjoying meeting more of these wonderful, book-passionate folks. Let's face it — these days, one does not enter the bookselling business for the money.
So yesterday. Yesterday, I drove to Waterloo and attempted to introduce myself to the people at Words Worth Books. First I went to the wrong place. It turns out that King Street in Waterloo is quite complicated. It starts out as King Street West, then King Street East, then King Street South, and finally King Street North. I didn't read the fine print and ended up looking in either the King West or King East area, I forget which. Bit of a sketchy neighbourhood, actually, and I was confused when I couldn't find the bookstore, but figured I'd park and then take a closer look on foot. I drove around a few blocks a few times, and finally found a metred spot. Since I needed to use the, ahem, facilities by this time, I stopped in a tea shop.
It was a lovely tea shop, it really was. They let me use their, ahem, facilities, first advising me to just try the door — if it's locked there's someone in there. Except sometimes it's not locked and there's someone in there. I found this out the hard way.
After that, back in the main room, there was a very loud, very bearded gentleman who was sure he knew me. "Hey, how are you doing? It's great to see you! You come in here all the time, right?"
Since I wasn't sure where I was, I couldn't agree. He asked me a lot of questions, very loudly, and I answered as politely as I could, very quietly. By the time we were done, he knew that I was from Whitby, that I was on my way to a bookstore, that I wasn't a Waterloo grad but my father was, and I'm not even sure what all else. And I knew he liked the tea shop because they were good folks there and that it was great weather we were having, but colder than it had been, and his name. He said he hoped I found something good to read, which is about the nicest thing you can wish for a bookavore. It was a little overwhelming, but he was friendly, at least, which is always nice in a new town.
And then he left and I took my tea to a table, and pulled out my iPhone to double-check which way it was to the bookstore. And it turned out the bookstore was three kilometres away.
So… tea to go, and a bit of a drive farther along King Street. Up into the Souths. When I first drove past the store, I caught a glimpse of cardboard boxes in the window. Worrisome, but not the end of the world. I found a parking spot and checked their website, which said they were moving a couple of doors down. So it was still only a few blocks to walk from the parking spot. Except that when I found the new location, there was a sign on the door saying to please come back tomorrow, as it was moving day.
They were inside, and they were kind when I knocked on the door and stammered out something about not being able to come back tomorrow as I had driven from Whitby that morning. I didn't want to bother them, so I very quickly left the papers I had prepared and retreated back to my car. It wasn't much of an introduction, really, but at least they were friendly. I'll call them back later in the week, once they've had a chance to settle in.
And then on to Guelph. I took a few detours getting there, but made it eventually. Guelph felt more homey to me than Waterloo did. Maybe it's just not as big, or as sprawling. I'd also been to the university a few times, since a close friend and my brother both went there. And it reminded me a little of the area around McMaster, where I went to school. Of course, I had no car back then, so navigating parking spots wasn't an issue.
In Guelph, it was. Luckily for me, there was a large lot right beside the bookstore, only partially full. I missed the entrance the first time around, but went back for it. And then it turned out that it wasn't city parking, but rather for the Royal Bank. Clients only.
This was probably a cheat, but I happen to be a Royal Bank customer, and I had a cheque in my wallet that I needed to deposit. So I parked, went in and used the bank, came out the other door, and went to the Bookshelf Cafe. Sorry, bank people. But your lot wasn't even a third full, and I was afraid of getting lost again.
What a bookshop. I could have spent many, many hours there, very happily. From the name, I was expecting something smaller — less bookshelf, more cafe. Way, way off. It was wonderful. I headed straight for the children's section, of course. Lots of familiar titles, plenty of new ones. I was so sucked in that I didn't even realize until I was heading back through the store that the YA books were in an entirely different area. So, of course, I had to detour through that section as well.
The person I had been told to ask for wasn't in, but I was lucky enough to meet the owner, who was very helpful. And again, I'll be following up with them later in the week. More on that later, probably.
So far I've visited five new bookstores in person over the past few weeks. Sometimes I've been lucky enough to make a connection with the right person at the right time, usually not. But without fail, the people in the stores have been helpful and receptive and given me directions for the next step. I have two workshops booked, and a few stores that have said they're interested but haven't yet booked dates. This is all a very new process to me, but I'm learning as I go.
Thus far, here's what I've learned:
navigating is easier when you bring a friend
be patient — explore the bookstore first; that's the fun part, and it gives you a chance to get over your nerves
don't be sad if your book isn't in stock
it helps to have a business card or bookmark or flyer to leave
there are a lot of great independent bookstores in and around the GTA
just because a washroom isn't locked, doesn't mean it's empty
That last one is especially important. You're welcome.
Is it easy to try to organize bookstore visits? No, I wouldn't say so, especially if you're an introvert — and writers tend to be. I get these flashbacks to some of my more horrible, sales-related high school jobs. Cold calling, cold chills. But these are book people — these are my kind of people! And often there's a moment of connection — the name of a favourite book, maybe, or a recommendation for my bookavore daughter (who is currently devouring a book that I bought her in Guelph). And then it doesn't matter so much who's standing where in the shop, because we're talking about something that lights up book lovers on both sides of the counter.
So no, it's not easy. And yes, I'll keep trying. And if you're a local writer and feel like coming along for the ride, please let me know!
Especially if you're good with directions.
Topics: Writing | 2 Comments »
By Erin Thomas | March 21, 2012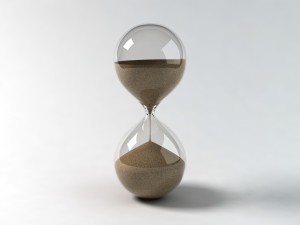 The weekend before last, my husband and I had a wonderful weekend. We went to a bed & breakfast near Picton, just us and the dog. We'd been there before; I mentioned it in another post. It was the dog's first time.
This is a special sort of bed & breakfast. It's more like renting a two-bedroom apartment, where one of those bedrooms is a 150-year-old stone cabin. And the breakfast stuff is there, but you make it yourself.
In short, it's perfect for a writing retreat. Or in Aaron's case, a coding retreat. We both loved immersing ourselves in our projects. It was hard work, but the relaxing kind of hard work. And at night, there were so few lights around that when we brought the dog out into the giant farmer's field of a backyard, we could see every star in the sky. All of them. Even the ones that are invisible.
Oh, and a few planets, too.
It was lovely and productive. And then we came home.
Since then, things haven't gone quite so smoothly. My writing time is being eaten up by other, writing-related things. I'm planning a book launch (see banner above) and working out bookstore visits for after the book comes out. I'll be teaching a writing-for-children class in Oshawa, starting tonight. That part is exciting. There are critiques to do and meetings to attend and notes and emails to write. And, of course, there are the non-writing-related things. We don't need to get into those.
But before I leave for class tonight, I'm going to finish the current chapter of my work in progress. Because there's no point doing all the bookstore visits and teaching courses and building a platform if I'm not writing.
It's tricky sometimes, not letting the supporting work overtake the work that matters. And sometimes things get in the way. But I think it's still important to set goals, even if they're smaller ones, and to stick to those goals.
Writing retreats aren't always possible. And sometimes writing just has to get crammed in around the edges of life.
It comes back to focus, and to knowing what you want. My goal is to be a writer. Not a teacher of writing, not a bookstore visitor, although those things are fun too.
When it comes to writing, Kathy Stinson taught me that what doesn't add, detracts. That's probably a life rule, too. And I'm quite sure it's a rule for the writing life.
So I'm going to work a little harder, and remind myself that the most important thing I do here at my desk is writing stories. And now I have a chapter to finish.
How do you keep focus when things get busy?
Topics: Writing | 2 Comments »
By Erin Thomas | March 12, 2012
I had another blog post in mind for today, but after reading this article in today's Toronto Star, I was reminded of a more pressing issue. Bill C-11 — the copyright one. If you haven't seen the article yet, please read it. It does a good job of outlining the concerns around the bill.
I shared an open letter to my MP, Jim Flaherty, here on my blog once before. Here is the email that I sent to him today.
* * *
Dear Mr. Flaherty,
Have you had the chance to read today's Toronto Star yet? I was happy to see the piece on copyright reform. The link is below, in case you need it.
http://www.thestar.com/opinion/editorialopinion/article/1144154–canadian-artists-lose-out-in-proposed-copyright-reform#.T13zo1bPnYQ.twitter
As a children's writer who lives in your riding, and has written to you on this matter before, I'd like to urge you again not to pass this bill in its current form. The wording under "fair use" is too general. It is a threat to my livelihood and to that of other writers whose work is used in schools and available in libraries.
Teachers must have access to the resources they need. I've been a teacher; I do understand this. My daughter attends a local school (third grade), and I want her to have a wide variety of reading options there, in the library and in the classroom. I want her teacher to have access to top-quality, up-to-date source material and lesson plans so that she can concentrate on teaching the students.
Bill C-11 is not the way to accomplish those ends.
The bill in its current form will curtail the creation of new material for use in schools and classrooms. It will make the already-challenging task of making a living as a writer or artist nearly impossible. And it will cause Canadian children's literature, something of which our country can truly be proud, to stagnate.
Please think long-term when you vote on this bill, Mr. Flaherty. And please make recommendations that will allow fair dealing to live up to its name.
Best wishes,
Erin Thomas
* * *
If you are Canadian, whatever your point of view, please consider writing to your MP to voice your opinion on Bill C-11. I think the worst thing that could happen here is for the bill to pass unexamined. It's worth thinking about, and it's worth talking about. Copyright isn't a simple issue. Take the time to let your voice be heard.
Topics: Writing | 1 Comment »
By Erin Thomas | March 5, 2012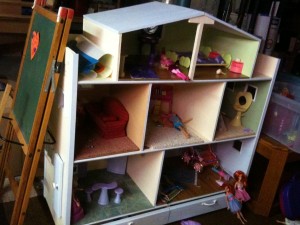 A few years ago, my dad built a giant Barbie dollhouse for Sarah. It's three (Barbie) storeys tall and about four feet wide. It's on wheels, and has little pull-out drawers along the bottom. The only possible place where it could fit in our house was the unfinished basement.
Sarah loves to play Barbies. She really, really loves to play Barbies with me. Because of the chilly, unfinished basement, and for reasons that will be immediately apparent to all moms out there, we refer to this activity as "doing hard time in the Barbie dungeon."
The thing is, a proper game of Barbies can take a long time. There's no finish line.
A friend of mine with a daughter the same age was talking about this the other day… how she hates the games that don't have "ends," or the ones that take too long to get there. When they play Monopoly as a family, they stop after the last property is bought. We've been known to do the same. It has the added benefit of dodging the bloodthirsty stage of the battle, but the thing is, it cuts the game short.
And with the Barbies… well, when I do take the time to get into Sarah's world and play with her properly, I enjoy it. And I wonder why I don't do it more often. I wonder that until the next time she asks, when I have writing to do and an eight-foot-high pile of laundry and a gazillion other things that need my time and energy.
So chances are I tell her no. Or placate her with a shorter, simpler game. Because when I look at an activity, I want to know how big it is. I want to know how large a time slot I have to chunk out of my schedule. What's the cost, in terms of minutes and hours?
I think it's natural. Or, at least, it's a learned behaviour, because Sarah does it too. When she comes across a tricky passage in a piano piece, she asks how many times she has to repeat it. "Until it sounds smoother," I say. But that's not what she wants. She wants a number. She wants me to say, "Three times, and it will be learned." She wants a finish line.
But playing with my daughter isn't piano practice. I'm not there with a goal in mind… unless that goal is to connect with my daughter and share something special together. To peek into her world as we build a story using twelve-inch-tall dolls with oversized chests, or plastic ponies that live in wooden stables. To listen and learn how she thinks. To make her laugh.
The best way to achieve that is to stop counting the minutes.
Writing is a bit the same. It's another game without a finish line. It can always be improved, and it's worth spending time on. That's part of what makes it wonderful and part of what makes it hard.
To write properly, you have to get into — really get into — a world. Let it evolve. And trust nature or instinct to tell you when to surface. It's scary, because there's something about this kind of writing that makes you vulnerable. But it's worth it. Because when you stop counting minutes, and just spend time with your story, that's when you get the good stuff.
It's hard, sometimes, to fit that kind of a writing session into a week. Turning off email and Twitter helps. I want to say that it's because my time is still sectioned off in chunks (so many hours until school pickup, so many minutes until the laundry is done), but that's not really why it's hard.
Even when time is not an issue, there's a reluctance to engage. I hesitate. I do other things first. I love to write, but I'll do a lot of other things first. Partly because of outside pressures and things other people want or need, partly because, well, that blank page can intimidate. It's hard to open yourself up to something that has no finish line.
In a way, this is about giving up control and being open. That's how you engage with writing, and that's how you engage with people.
Once I start writing, I love it. I'm happy. I wonder why I don't do it more often. Like I said, it's worth it.
So is Sarah. I think I sense some "hard time in the Barbie dungeon" coming up in the near future.
Topics: Writing | No Comments »
By Erin Thomas | February 27, 2012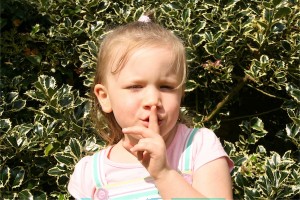 If you follow James Scott Bell on Twitter (and if you're interested in writing tips, it's a good idea), you might have seen this last week:
Give characters secrets. One of the keys to Downton Abbey. #writing #writetip
We all have secrets, don't we? They change the way we do things, and the way we see people. Think about the secrets in your life and how they colour your view.
You don't have to tell me your secrets; I'm not going to tell you mine.
Here's something I will admit to. I'm a Downton Abbey fan. My husband and I started watching it because of the time period (I'm playing around with a novel set in 1910) and were hooked by the end of the first episode. And as the series unfolds, there are a lot of secrets. They hit all the doozies: A dead body, affairs, a secret identity, passions… it's a minefield. And it keeps us watching.
There's this middle-grade novel I've been revising for a while. I'm at a scene now where one of my secondary characters, a ten-year-old girl named Marissa, could find something out. Something important. What do you think? Should she learn it now? Or later?
Probably later. Because right now my main character Tyler knows the secret, and the reader knows it, and nobody else does. There's tension in that.
Tyler has to navigate his way around Marissa and keep his secret safe without screwing up their friendship. It makes his life difficult. And let's face it, any opportunity to make the main character's life difficult is a bonus.
Besides, the reader likes being in on a secret. Who wouldn't?
I used to see it in the classroom. Offer to give kids a writing tip and their eyes glaze over. But offer to tell them a secret about writing, something their regular teacher probably doesn't know? They lean forward.
Think about ways you can use secrets in your writing:
The reader knows something the character doesn't
One character knows something another doesn't… about himself, or maybe about a third character
Your character knows something the reader doesn't (be careful with this one–if you're in first person point of view, or even a close third, it has to be handled well or it feels like a cheat)
There's a secret out there that no one knows the answer to–none of your point of view characters, not the reader, no one. Except you. Hopefully. Because the secret should be revealed before the end of the novel.
Here's another thought. Has anyone ever told you a secret you wished you didn't know? There's no going back, is there? Not once you've learned the truth. How can you use that in your writing?
Or… what if the secret isn't true at all? What if it's a lie? How does that change things?
I'm going to let my character keep his secret for a little while longer. I'll play with it and see what kind of tension it adds to the current scene, and then to the one after that. I'll to wait until he's boiling over with it, until he has to tell someone or explode — and then I'll come up with a good reason why he can't tell. Because writers are mean like that.
Is there a secret that can add tension to your current scene?
Topics: Writing | No Comments »
« Previous Entries
Next Entries »